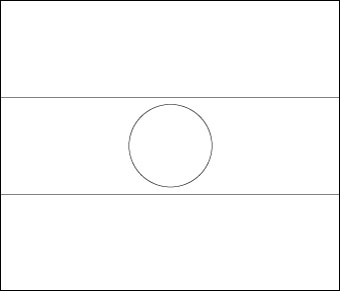 Download Picture of Niger Flag Outline for kids to colour
The Niger Flag is a tricolour flag comprising three horizontal stripes of orange, white, and green from the top downwards. In the middle of the white strip, there is an orange disc.
The standard proportion of the Niger Flag is in the ratio of 6:7. The top orange band of the flag of Niger represents the Savannah grasslands that lie in the northern regions of the Sahara Desert. The white color is symbolic of purity as well as innocence.
The green band stands for the country's rainforests and the Niger River. The orange disc in the middle of the white band signifies the celestial sun as well as the eagerness of the state to protect its freedom.
| | |
| --- | --- |
| Official Name: | Republiqe du Niger |
| Capital: | Niamey |
| Location: | Western African country bordered by Algeria libya mali upper Volta benin Nigeria and Chad. |
| Area: | 11,267 Sq. km. |
| Official Languages: | French |
| National symbol(s): | zebu |
| National colors: | orange, white, green |
| National anthem: | |
| Name: | "La Nigerienne" (The Nigerien) |
| Lyrics/Music: | Maurice Albert THIRIET/Robert JACQUET and Nicolas Abel Francois FRIONNET |
| Country | Niger |
| --- | --- |
| Designed by | NA |
| Adopted | 23. November 1959 |
| Revision | NA |
| Design and Colors | A horizontal triband of orange, white and green; charged with an orange circle in the centre |
| Size Ratio | NA |