Niger Cities Map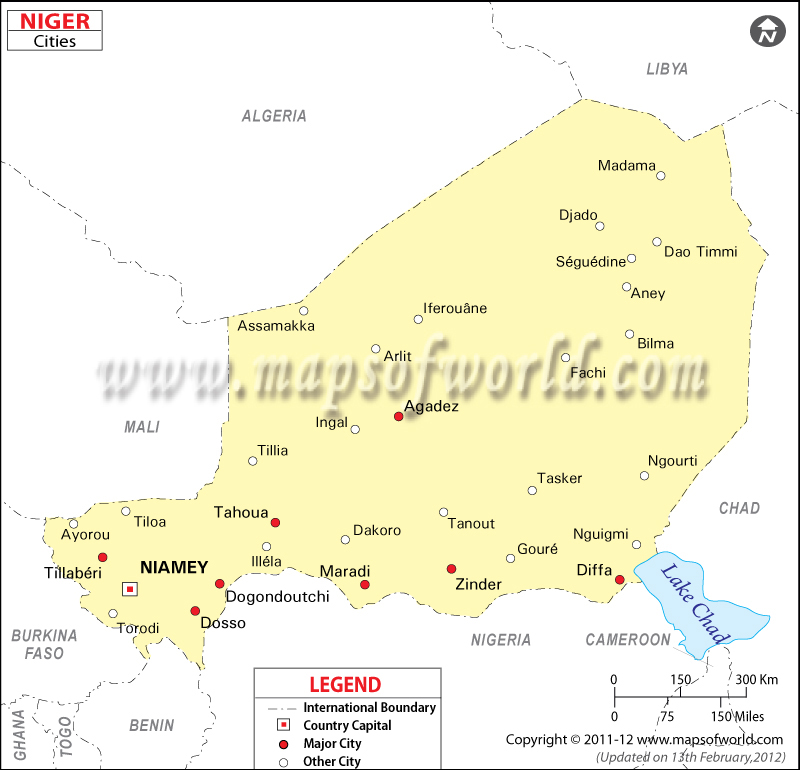 About the Cities of Niger
Niger Cities, located across the country, are unique in its own way. Niamey, Agadez, Zinder, Dosso, Miria, Arlit, Bilma, Maradi, Tahoua and Timia are some of the Niger cities.
Some are industrial cities while others are famous for its ancient architectural genius.
The capital of Niger is Niamey. Niamey is also the largest city among cities in Niger. Niamey is the administrative and economic centre. Grand Mosque and national Museum are the attractions of this city.
Agadez is famous for its transportation of uranium mined in the surrounding area. Famous buildings in the city include Agadez Grand Mosque, Koacen Palace and Agadez Sultan's palace. Zinder is one of the trade centers of Niger. It is located around 535 miles east of Niamey. The three famous places of this region are Birni a town, Zinder great mosque and Zinder Sultan's Palace. On the junction of the main routes to Zinder and Benin, lies the Dosso, 86 km south east of the capital. Chieftain's compound and a museum are attractions here.
Miria is another city. Arlit the industrial place is situated in between Sahara desert and Air Mountains. This place is famous for Uranium mines. Bilma is situated in the heart of Sahara desert. This city is famous for its gardens and salt manufacturing. Maradi, the administrative centre of Maradi region is famous for ground nut Farming and mosque to visit. Tahoua is also an administrative center of Tahoua department. Built in the oasis Timia is famous for waterfall and French port.
List of Cities in Niger
| City | Census division | Population 2001 | Position (Lat & Long) |
| --- | --- | --- | --- |
| Abalak | Tahoua | 12764 | 15.4522222°N 6.2783333°E |
| Agadez | Agadez | 78289 | 16.9738889°N 7.9908333°E |
| Aguié | Maradi | 11475 | 13.5080556°N 7.7772222°E |
| Arlit | Agadez | 69435 | 18.7325°N 7.3680556°E |
| Birni Ngaouré | Dosso | 10775 | 13.0877778°N 2.9169444°E |
| Birni Nkonni | Tahoua | 44663 | 13.8°N 5.25°E |
| Dakoro | Maradi | 18875 | 13.8166667°N 6.4166667°E |
| Diffa | Diffa | 23409 | 13.3155556°N 12.6088889°E |
| Dogondoutchi | Dosso | 29244 | 13.6461111°N 4.0288889°E |
| Dosso | Dosso | 43561 | 13.0444444°N 3.1947222°E |
| Filingué | Tillabéri | 11661 | 14.35°N 3.3166667°E |
| Gaya | Dosso | 28385 | 11.8877778°N 3.4466667°E |
| Gouré | Zinder | 13422 | 13.9869444°N 10.27°E |
| Guidan Roumji | Maradi | 10744 | 13.85°N 6.9666667°E |
| Illéla | Tahoua | 15805 | 14.4616667°N 5.2475°E |
| Kollo | Tillabéri | 10533 | 13.3086111°N 2.3308333°E |
| Madaoua | Tahoua | 22175 | 14.1°N 6.4333333°E |
| Magaria | Zinder | 17776 | 14.5666667°N 8.7333333°E |
| Maïné-Soroa | Diffa | 10176 | 13.2177778°N 12.0266667°E |
| Maradi | Maradi | 148017 | 13.4916667°N 7.0963889°E |
| Matameye | Zinder | 17930 | 13.4238889°N 8.4777778°E |
| Mirria | Zinder | 19161 | 13.7141667°N 9.1505556°E |
| Nguigmi | Diffa | 15922 | 14.2527778°N 13.1108333°E |
| Niamey | Niamey Capital District | 707951 | 13.5166667°N 2.1166667°E |
| Say | Tillabéri | 10502 | 13.1080556°N 2.3597222°E |
| Tahoua | Tahoua | 73002 | 14.8902778°N 5.2677778°E |
| Tânout | Zinder | 15779 | 14.9702778°N 8.8916667°E |
| Tchirozérine | Agadez | 10032 | 17.2602778°N 7.7508333°E |
| Téra | Tillabéri | 19508 | 14.0105556°N 0.7530556°E |
| Tessaoua | Maradi | 31667 | 13.7533333°N 7.9863889°E |
| Tillabéri | Tillabéri | 16683 | 14.206146°N 1.453457°E |
| Zinder | Zinder | 170575 | 13.8°N 8.9833333°E |