Tennessee Map with Cities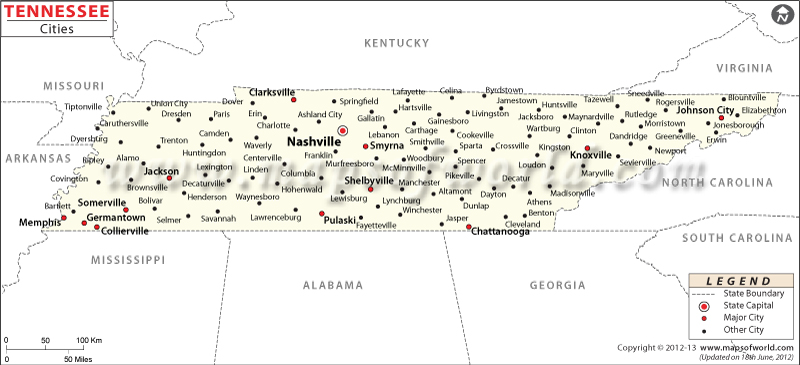 Map of Tennessee Cities
Map of Tennessee Cities provides a comprehensive visual overview of the cities scattered throughout the state of Tennessee. This map allows you to easily explore and navigate the diverse locations of each city.
Cities in Tennessee
Tennessee is home to a variety of cities, each with its own unique charm and offerings. From vibrant urban centers to small historic towns, Tennessee's cities offer a range of experiences. Whether you're interested in music and entertainment, outdoor adventures, rich history, or scenic landscapes, you'll find something to enjoy in Tennessee.
How Many Cities are in Tennessee
Tennessee has numerous cities, with a total of 429 municipalities. These cities are spread across the state, providing a diverse array of places to explore and discover. The Map of Tennessee Cities can help you visualize the distribution of all cities.
Largest Cities in Tennessee
The largest cities in Tennessee are the ones with the most people and have lots of fun things to do. Some of the biggest cities in Tennessee are Nashville, Memphis, Knoxville, Chattanooga, and Clarksville. These cities are famous for their music, history, sports, and exciting events.
Safest Cities in Tennessee
Some cities in Tennessee are known for being very safe and caring about the well-being of their residents and visitors. These cities work hard to keep everyone secure and protected. Franklin, Brentwood, Germantown, Collierville, and Murfreesboro are some of the safest cities in Tennessee. They have lower crime rates and take proactive steps to make sure everyone feels safe. These cities have nice neighborhoods, good police plans, and involve the community in safety efforts.
Best Cities to Live in Tennessee
Tennessee has many cities that are considered great places to live in the state. These cities offer a good life with lots of things to do. Some of the best cities to live in Tennessee are Nashville, Franklin, Knoxville, Chattanooga, and Murfreesboro. These cities have good schools, nice parks, and lots of fun things to do. You can enjoy music, explore historical sites, go hiking or visit parks, and be part of a friendly community. They have a strong sense of belonging and provide a high quality of life for their residents.
Major Cities in Tennessee

City
Population
County
Region
Notable Attractions

Nashville

692,587

Davidson

Middle Tennessee

Country Music Hall of Fame, The Parthenon

Memphis

651,073

Shelby

West Tennessee

Graceland, Beale Street

Knoxville

189,148

Knox

East Tennessee

University of Tennessee, Great Smoky Mountains

Chattanooga

186,239

Hamilton

East Tennessee

Tennessee Aquarium, Lookout Mountain

Clarksville

158,146

Montgomery

Middle Tennessee

Fort Campbell, Dunbar Cave State Park