North Dakota City Maps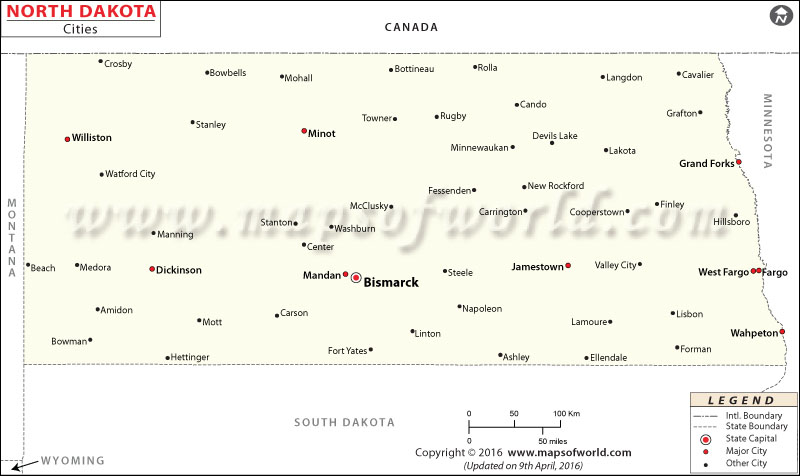 In the Midwestern and the northern regions of the United States, North Dakota is the 19th largest state by area and the 47th most populous. Fargo is the largest city by population. As of 2016, the city had an estimated population of 120,762 people. The county seat of Cass County, Fargo, accounts for approximately 15 percent of the population of North Dakota. Bismarck, the state capital, is the second most populous city. Founded on May 14, 1872, Bismarck had a population of roughly 72,417 inhabitants. Cities that have a population of more than 20,000 people are Grand Forks, Minot, West Fargo, Williston, Dickinson, and Mandan. Ruso, in McLean County, is the least populous. As of 2016, only four people lived in Ruso.
The state has 53 counties. Founded in 1871, Fargo is the most populous city in the state. The state capital is Bismarck, and the North Dakota State Capitol is the tallest building in the state. Grand Forks is the third largest city in the Red River Valley. Known as 'Magic City,' Minot hosts the North Dakota State Fair in July. Jamestown features a 26-ft tall sculpture named as World's Largest Buffalo Monument.
Williston, Dickinson, and Mandan are other notable cities in North Dakota.
Getting In and Around
Hector International Airport (FAR) in Fargo is the busiest airport in the state.
Amtrak operates Empire Builder route through the state.
I-29 and I-94 are two primary interstate highways in North Dakota.
List of Cities in North Dakota
City Name
County Name
Population
(2011)
Argusville
Cass
485
Ashley
McIntosh
739
Beach
Golden Valley
1,064
Belfield
Stark
834
Berthold
Ward
472
Beulah
Mercer
3,130
Bismarck
Burleigh
62,665
Bottineau
Bottineau
2,215
Bowman
Bowman
1,641
Burlington
Ward
1,102
Cando
Towner
1,124
Carrington
Foster
2,064
Casselton
Cass
2,370
Cavalier
Pembina
1,289
Center
Oliver
567
Cooperstown
Griggs
964
Crosby
Divide
1,096
Devils Lake
Ramsey
7,141
Dickinson
Stark
18,499
Drayton
Pembina
816
Dunseith
Rolette
787
Edgeley
LaMoure
558
Elgin
Grant
627
Ellendale
Dickey
1,400
Emerado
Grand Forks
413
Enderlin
Ransom
876
Fairmount
Richland
365
Fargo
Cass
107,349
Fessenden
Wells
482
Finley
Steele
439
Forman
Sargent
499
Garrison
McLean
1,470
Glen Ullin
Morton
815
Glenburn
Renville
383
Grafton
Walsh
4,251
Grand Forks
Grand Forks
52,631
Gwinner
Sargent
747
Hankinson
Richland
913
Harvey
Wells
1,795
Harwood
Cass
731
Hatton
Traill
779
Hazen
Mercer
2,417
Hebron
Morton
754
Hettinger
Adams
1,208
Hillsboro
Traill
1,610
Horace
Cass
2,476
Jamestown
Stutsman
15,400
Kenmare
Ward
1,139
Killdeer
Dunn
788
Kindred
Cass
705
Kulm
LaMoure
351
Lakota
Nelson
656
LaMoure
LaMoure
881
Langdon
Cavalier
1,852
Larimore
Grand Forks
1,340
Leeds
Benson
430
Lidgerwood
Richland
649
Lincoln
Burleigh
2,462
Linton
Emmons
1,096
Lisbon
Ransom
2,133
Maddock
Benson
385
Mandan
Morton
18,507
Manvel
Grand Forks
359
Mapleton
Cass
775
Mayville
Traill
1,864
McClusky
Sheridan
376
Milnor
Sargent
647
Minot
Ward
42,485
Minto
Walsh
599
Mohall
Renville
789
Mott
Hettinger
732
Napoleon
Logan
790
Neche
Pembina
366
New England
Hettinger
607