Nebraska City Maps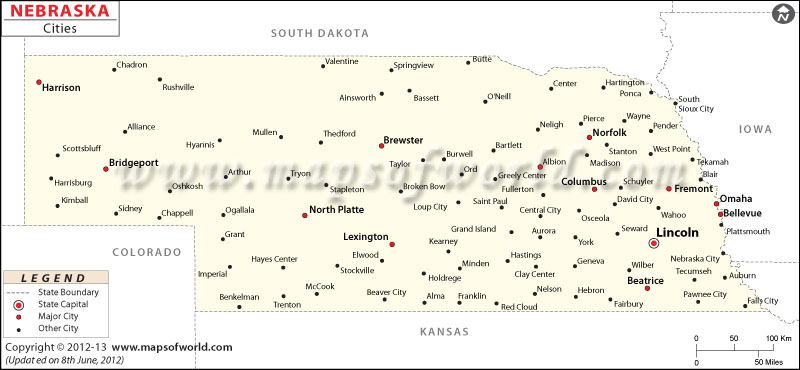 Located in the Great Plains and the Midwestern United States, Nebraska is the 16th most extensive state of the country and the 37th most populous. Omaha is the largest city by population in Nebraska. As of 2016, the city had a population of 446,970 people. Lincoln, the capital of Nebraska, is the second most populous city in the state. The city comprises a population of 280,364 inhabitants. Bellevue and Grand Island are the third and fourth most populous cities. Each city has a population of more than 50,000 people. Valley, located in Douglas County, is the least populated city in the state. As of 2016, Valley had a population of approximately 2,172 people.
The state has 93 counties. Lincoln, the state capital, is home to the second tallest capitol building in the US. Situated on the banks of the Missouri River, Omaha is the largest city of in the state and is called the "Gateway to the West". The Henry Doorly Zoo in Omaha is among the best zoos in the world. Incorporated in 1855, Bellevue is the oldest inhabited city in the state.
Grand Island hosts the annual Nebraska State Fair. Kearney houses several museums documenting the history of California, Oregon, and Pony Express trails. Kool-Aid was invented in 1927 by Edwin Perkins in the city of Hastings.
Getting In and Around
The Eppley Airfield (IMA) in Omaha is gateway to the state.
Amtrak's California Zephyr operates through the state.
Interstate highway 80 (I-80), which runs from east to west, is a major road in Nebraska.
List of Cities in Nebraska
| City Name | County Name | Population (2010) |
| --- | --- | --- |
| Alliance | Box Butte | 8,491 |
| Aurora | Hamilton | 4,196 |
| Beatrice | Gage | 12,459 |
| Bellevue | Sarpy | 50,137 |
| Blair | Washington | 7,990 |
| Chadron | Dawes | 5,851 |
| Columbus | Platte | 22,111 |
| Cozad | Dawson | 4,296 |
| Crete | Saline | 6,960 |
| Fairbury | Jefferson | 3,663 |
| Falls City | Richardson | 3,933 |
| Fremont | Dodge | 26,397 |
| Gering | Scotts Bluff | 8,500 |
| Gothenburg | Dawson | 3,703 |
| Grand Island | Hall | 48,520 |
| Gretna | Sarpy | 4,441 |
| Hastings | Adams | 24,907 |
| Holdrege | Phelps | 5,495 |
| Kearney | Buffalo | 30,787 |
| La Vista | Sarpy | 15,758 |
| City Name | County Name | Population (2010) |
| --- | --- | --- |
| Lexington | Dawson | 10,230 |
| Lincoln | Lancaster | 258,379 |
| McCook | Red Willow | 7,698 |
| Nebraska City | Otoe | 7,289 |
| Norfolk | Madison | 24,210 |
| North Platte | Lincoln | 24,733 |
| Ogallala | Keith | 4,391 |
| Omaha | Douglas | 408,958 |
| Papillion | Sarpy | 18,894 |
| Plattsmouth | Cass | 6,502 |
| Ralston | Douglas | 5,943 |
| Schuyler | Colfax | 6,211 |
| Scottsbluff | Scotts Bluff | 15,039 |
| Seward | Seward | 6,964 |
| Sidney | Cheyenne | 6,757 |
| South Sioux City | Dakota | 13,353 |
| Wahoo | Saunders | 4,167 |
| Waverly | Lancaster | 3,302 |
| Wayne | Wayne | 5,660 |
| York | York | 7,766 |