Virginia City Maps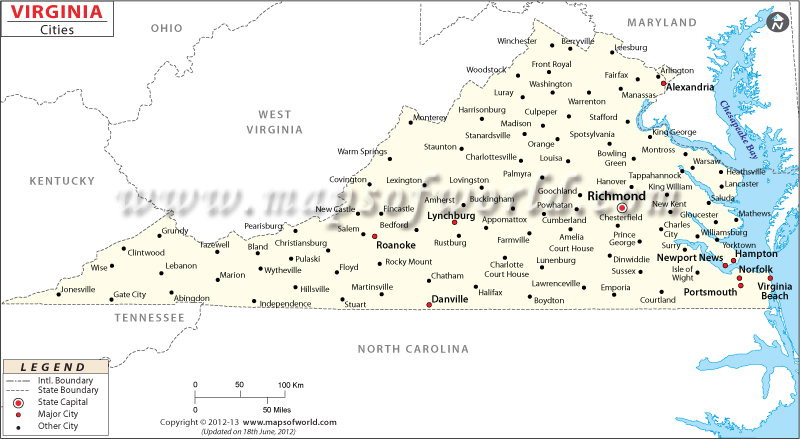 Virginia has many cities to visit. The capital city of Virginia State is Richmond. Other major cities are Roanoke, Danville, and Alexandria.
About Cities in Virginia
From the western Highlands of the Blue Ridge Mountains to the eastern lowlands along the Chesapeake Bay, the state of Virginia is in a class apart. Draped in American history, it is the 35th largest state by area and the 12th most populous state in the United States.
Located in the South Atlantic region of the US, the state of Virginia is nicknamed the "Old Dominion." The capital of the Commonwealth of Virginia is Richmond, whereas Virginia Beach is the most populous city in the state. American Civil War Museum, Science Museum of Virginia, St. John's Episcopal Church, Virginia State Capitol, and Byrd Theatre are major tourist attractions in Richmond.
Having a beautiful oceanfront, Virginia Beach – a most populous city in Virginia – lies in the Hampton Roads metropolitan area. The most extensive Navy base in the world is located in the city of Norfolk. Chesapeake has many square miles of protected forests and wetlands around its urban populace. The historic center of Alexandria features boutiques, restaurants, and antique shops.
Getting In and Around
Washington Dulles International Airport, Ronald Reagan Washington National Airport, Norfolk International Airport, Richmond International Airport, and Newport News/Williamsburg International Airport are the busiest airports in Virginia. Amtrak's Northeast Regional, Crescent, Cardinal, Carolinian, Silver Star, and Auto Train serve major cities in Virginia. Interstate Highways (I-95, I-81, I-64, and I-66) and other state highways create a dense road network.
List of Cities in Virginia
| City Name | Population (2010) |
| --- | --- |
| Virginia Beach | 447,021 |
| Norfolk | 245,782 |
| Chesapeake | 228,417 |
| Richmond | 210,309 |
| Newport News | 180,726 |
| Alexandria | 146,294 |
| Hampton | 136,836 |
| Roanoke | 97,469 |
| Portsmouth | 96,470 |
| Suffolk | 85,181 |
| Lynchburg | 77,113 |
| Harrisonburg | 50,981 |
| Charlottesville | 43,956 |
| Danville | 42,996 |
| Manassas | 40,605 |
| Petersburg | 31,973 |
| Fredericksburg | 27,307 |
| Winchester | 26,881 |
| Salem | 24,970 |
| Staunton | 23,921 |
| Fairfax | 23,461 |
| Hopewell | 22,348 |
| Waynesboro | 21,107 |
| Bristol | 17,662 |
| Colonial Heights | 17,479 |
| Radford | 16,685 |
| Manassas Park | 15,798 |
| Williamsburg | 15,167 |
| Martinsville | 13,733 |
| Falls Church | 13,229 |
| Poquoson | 12,097 |
| Franklin | 8,528 |
| Lexington | 6,998 |
| Galax | 6,908 |
| Buena Vista | 6,707 |
| Bedford | 5,964 |
| Covington | 5,771 |
| Emporia | 5,740 |
| Norton | 4,068 |