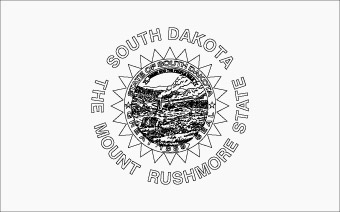 However according to the records of the South Dakota Flag history, it was altered in 1992, to introduce the nickname of the state.
The original South Dakota Flag was adopted in 1909, which featured the state seal of South Dakota on the back while a picture of the sun was on the front.
Description of South Dakota Flag
The current South Dakota Flag is a lovely shade of sky blue with the state seal superimposed on the golden rays of the radiant sun. Surrounding the sun are the yellow colored words, "South Dakota" and "The Mount Rushmore State."
Symbolism of South Dakota Flag
The state seal on the South Dakota Flag truly depicts the rich diversity in the state's resources and various industries. The image of the farmer tilling his land represents agriculture, while the smelter stands for mining and manufacturing. The steamboat is a symbol for the state's commerce and the trees symbolize timber.
The river and the mountains are the natural wealth of the state. Written across the upper portion of this scenic image is the motto of South Dakota, "Under God the People Rule." Bordering the seal are the words, "State of South Dakota" and "Great Seal". The year 1889 is also written on it, which signifies the year when the state became an official member of the Union. The rays of the sun are depicted to imply the old nickname of South Dakota, which was the "Sunshine State."
The South Dakota Flag is extraordinary for its simple yet symbolic seal, which sums ups the features of the state.
For flags of other states of the USA, check the Flags of the 50 States.