South Dakota City Maps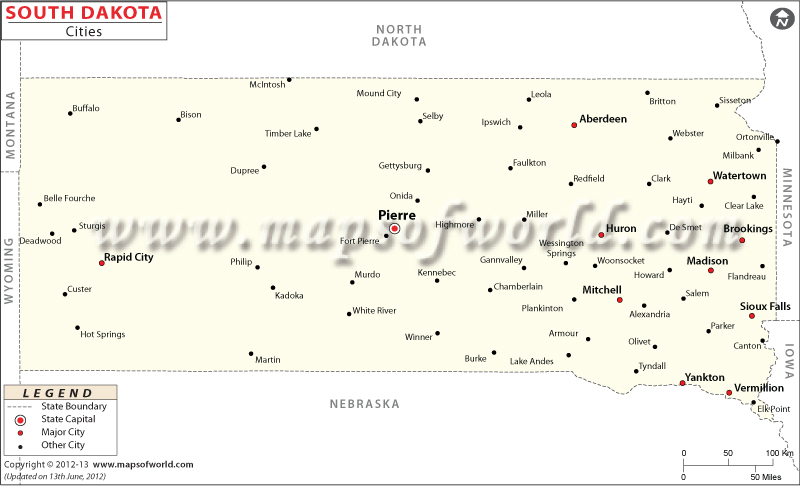 Nicknamed 'The Mount Rushmore State', South Dakota is located in Midwestern United States. It borders North Dakota, Minnesota, Iowa, Nebraska, Wyoming, and Montana.
The Missouri River bisects the state into two geographically and socially distinct halves: East River and West River. There are 66 counties in the state. Pierre is the second least populous state capital in the US after Montpelier, Vermont.
Located on the Big Sioux River, Sioux Falls is the largest city in the state. Known as the "Gateway to the Black Hills", Rapid City lies near the iconic landmark Mount Rushmore and the historical "Old West" town of Deadwood. Aberdeen is a college town and third largest city in South Dakota. Brookings is home to South Dakota State University.
Watertown houses the Bramble Park Zoo and the Redlin Art Center. Mitchell is home to the Dakota Discovery Museum and the Corn Palace. Located on the Missouri River, Yankton was the first capital of Dakota Territory. The city of Sturgis hosts one of the largest annual motorcycle events in the world, the Sturgis Motorcycle Rally in August. Huron hosts the South Dakota State Fair.
Spearfish, Madison, and Chamberlain are other notable cities in South Dakota.
Getting In and Around
Sioux Falls Regional Airport (FSD) is a regional hub in the state.
Train service is limited to freight networks such as BNSF Railwaym Canadian Pacific Railway, Dakota Southern Railway, and Sunflour Railroad.
I-90 (east-west) and I-29 (north-south) are primary interstate highways in South Dakota.
List of Cities in South Dakota
| City Name | County Name | Population (2011) |
| --- | --- | --- |
| Sioux Falls | Minnehaha | 156,592 |
| Rapid City | Pennington | 69,200 |
| Aberdeen | Brown | 26,297 |
| Brookings | Brookings | 22,228 |
| Watertown | Codington | 21,658 |
| Mitchell | Davison | 15,368 |
| Yankton | Yankton | 14,564 |
| Pierre | Hughes | 13,860 |
| Huron | Beadle | 12,706 |
| Vermillion | Clay | 10,706 |
| Spearfish | Lawrence | 10,585 |
| Brandon | Minnehaha | 8,908 |
| Box Elder | Pennington | 7,908 |
| Sturgis | Meade | 6,656 |
| Madison | Lake | 6,648 |
| Belle Fourche | Butte | 5,675 |
| Harrisburg | Lincoln | 4,271 |
| Tea | Lincoln | 3,976 |
| Dell Rapids | Minnehaha | 3,684 |
| Hot Springs | Fall River | 3,653 |
| Mobridge | Walworth | 3,553 |
| Milbank | Grant | 3,305 |
| Canton | Lincoln | 3,188 |
| Lead | Lawrence | 3,154 |
| Winner | Tripp | 2,882 |
| North Sioux City | Union | 2,575 |
| Hartford | Minnehaha | 2,570 |
| Sisseton | Roberts | 2,502 |
| Chamberlain | Brule | 2,400 |
| Redfield | Spink | 2,355 |
| Flandreau | Moody | 2,337 |
| Lennox | Lincoln | 2,200 |
| Fort Pierre | Stanley | 2,135 |
| Custer | Custer | 2,103 |
| Beresford | Union | 2,049 |
| Elk Point | Union | 2,003 |
| Springfield | Bon Homme | 1,977 |
| Webster | Day | 1,896 |
| Summerset | Meade | 1,821 |
| Volga | Brookings | 1,784 |
| Wagner | Charles Mix | 1,581 |
| Parkston | Hutchinson | 1,488 |
| Miller | Hand | 1,485 |
| Groton | Brown | 1,469 |
| Eagle Butte | Dewey | 1,335 |
| Salem | McCook | 1,333 |