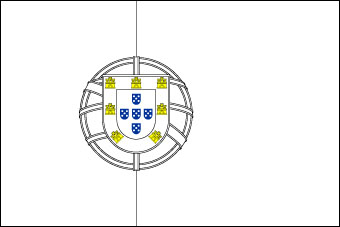 Download Picture of Portugal Flag Outline for kids to color
The left side band of green occupies a two-fifth of the ensign's length, while the right-hand red band adopts the remaining.
A coat of arms with Portugal's conventional shield is centralized on the Portuguese flag where the two shades of the flag congregate.
Red interprets the Portuguese uprising in 1910 while Green symbolizes optimism. Five blue shields graced with five white dots comprise the white shield.
These blue shields indicate conquest over five Moresque kings while the five dots and cross signifies Christianity.
At the back of the arms, a navigation device observes Prince Henry the Navigator, who initiated the marine expedition of Portugal.
| | |
| --- | --- |
| National symbol(s): | armillary sphere (a spherical astrolabe modeling objects in the sky and representing the Republic) |
| National colors: | red, green |
| National anthem: | |
| Name: | "A Portuguesa" (The Song of the Portuguese) |
| Lyrics/Music: | Henrique LOPES DE MENDOCA/Alfredo KEIL |
| Country | Portugal |
| --- | --- |
| Designed by | NA |
| Adopted | 30. June 1911 |
| Revision | NA |
| Design and Colors | A 2:3 vertically striped bicolor of green and red, with the lesser coat of arms of Portugal, centered over the color boundary |
| Size Ratio | 2:3 |