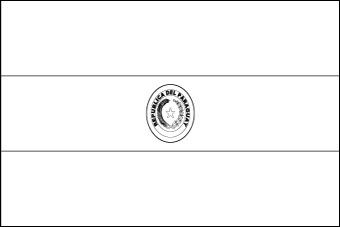 Download Picture of Blank Paraguay Observe Flag For Kids to Color
Paraguay Flag Description
The flag of Paraguay has three horizontal bands of equal width in red, white, and
blue from to to bottom. Unlike any other national flag, the flag of Paraguay is unique in that the front (obverse) of the flag of Paraguay is different from the back (reverse). On the front of the flag, the national coat of arms is placed in the center of the white stripe. Centered on the back of the flag is the seal of the national treasury.
The coat of arms of Paraguay has a yellow star on a blue circle, framed by a palm branch and an olive branch, encircled by a red band with "Republica del Paraguay" across it. On the reverse, the seal of the treasury has a golden lion, a staff topped with the Phrygian cap, a symbol of liberty. A red banner curves above, reading "Paz Y Justicia," which means "peace and justice."
The flag of Paraguay is very similar to the flag of the Netherlands, which features the same three horizontal bands, without a seal or emblem.
| | |
| --- | --- |
| National symbol(s): | lion |
| National colors: | red, white, blue |
| National anthem: | |
| Name: | "Paraguayos, Republica o muerte!" (Paraguayans, The Republic or Death!) |
| Lyrics/Music: | Francisco Esteban ACUNA de Figueroa/disputed |
| Country | Paraguay |
| --- | --- |
| Designed by | NA |
| Adopted | 25. November 1842 |
| Revision | 2013 |
| Design and Colors | The flag of Paraguay consists of three horizontal stripes – the top stripe is red, the middle one white, and the bottom stripe is blue. In the middle of the Paraguay flag and white stripe there is an emblem. The front of the flag has the country's state coat of arms on it and the back has the country's Treasury Seal. The state arms on the front consist of a five pointed yellow star on a blue disc. Surrounding the star is an olive branch and a palm branch. |
| Size Ratio | 11:20 |