West Virginia City Maps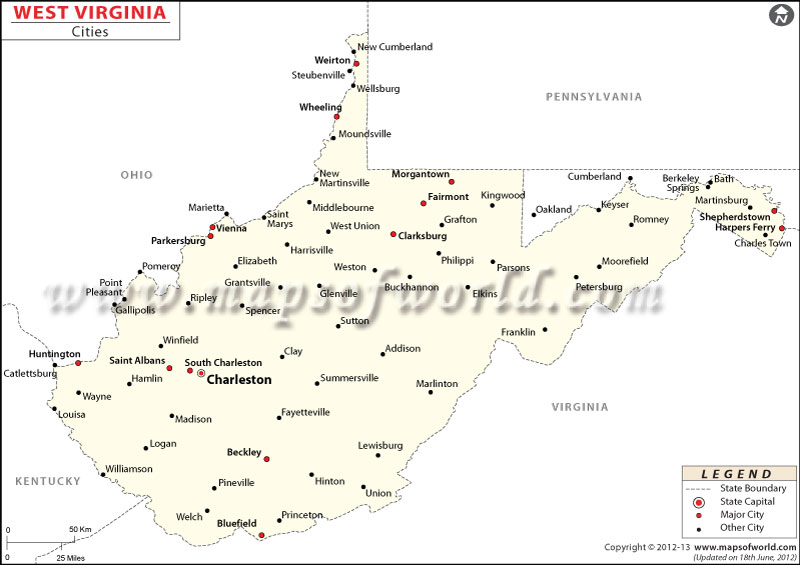 The capital city of West Virginia is Charleston. Comprising as area of 24,230 square miles, the state has 55 counties.
Nicknamed the 'Mountain State', West Virginia is located in the eastern United States Appalachian region.
Nestled amidst lush green surroundings, Charleston is the capital and largest city of West Virginia. The state's second largest city, Huntington is home to Marshall University, Huntington Museum of Art, Harris Riverfront Park, Camden Park, and Memorial Park. Wheeling was the first state capital (from 1863 to 1870) of West Virginia.
The Cass Scenic Railroad State Park, Harpers Ferry National Historical Park, Seneca Caverns, West Virginia State Penitentiary, Blackwater Canyon, and New River Gorge National River are famous tourist attractions in the state. Morgantown, Parkersburg, Weirton, Fairmont, and Martinsburg are other major cities in West Virginia.
Getting In and Around
Yeager Airport (CRW) in Charleston is the primary gateway to the state.
Amtrak's Cardinal, which runs between New York and Chicago, passes through the state.
Interstate highways I-64, I-77, and I-79 are primary roads in West Virginia.
List of Cities in West Virginia
| City Name | County Name | Population (2010) |
| --- | --- | --- |
| Charleston | Kanawha | 51,400 |
| Huntington | Cabell | 49,138 |
| Parkersburg | Wood | 31,492 |
| Morgantown | Monongalia | 29,660 |
| Wheeling | Ohio | 28,486 |
| Weirton | Hancock | 19,746 |
| Fairmont | Marion | 18,704 |
| Beckley | Raleigh | 17,614 |
| Martinsburg | Berkeley | 17,227 |
| Clarksburg | Harrison | 16,578 |
| South Charleston | Kanawha | 13,450 |
| St. Albans | Kanawha | 11,044 |
| Vienna | Wood | 10,749 |
| Bluefield | Mercer | 10,447 |
| Moundsville | Marshall | 9,318 |
| Bridgeport | Harrison | 8,149 |
| Dunbar | Kanawha | 7,907 |
| Oak Hill | Fayette | 7,730 |
| Nitro | Kanawha | 7,178 |
| Elkins | Randolph | 7,094 |
| Princeton | Mercer | 6,432 |
| Hurricane | Putnam | 6,284 |
| Buckhannon | Upshur | 5,639 |
| Keyser | Mineral | 5,439 |
| New Martinsville | Wetzel | 5,366 |
| Charles Town | Jefferson | 5,259 |
| Grafton | Taylor | 5,164 |
| Ranson | Jefferson | 4,440 |
| Point Pleasant | Mason | 4,350 |
| Weston | Lewis | 4,110 |
| Westover | Monongalia | 3,983 |
| Barboursville | Cabell | 3,964 |
| Ravenswood | Jackson | 3,876 |
| Lewisburg | Greenbrier | 3,830 |
| Summersville | Nicholas | 3,572 |
| Ripley | Jackson | 3,252 |
| Kenova | Wayne | 3,216 |
| Williamson | Mingo | 3,191 |
| Pleasant Valley | Marion | 3,149 |
| Madison | Boone | 3,076 |
| Follansbee | Brooke | 2,986 |
| Philippi | Barbour | 2,966 |
| Kingwood | Preston | 2,939 |
| Williamstown | Wood | 2,908 |
| Fayetteville | Fayette | 2,892 |
| Wellsburg | Brooke | 2,805 |
| Hinton | Summers | 2,676 |
| Paden City | Wetzel | 2,633 |
| Chester | Hancock | 2,585 |
| Moorefield | Hardy | 2,544 |
| Bethlehem | Ohio | 2,499 |
| Petersburg | Grant | 2,467 |
| White Sulphur Springs | Greenbrier | 2,444 |
| Milton | Cabell | 2,423 |
| Welch | McDowell | 2,406 |
| Spencer | Roane | 2,322 |
| Winfield | Putnam | 2,301 |
| Shinnston | Harrison | 2,201 |
| Mannington | Marion | 2,063 |
| Richwood | Nicholas | 2,051 |
| McMechen | Marshall | 1,926 |
| Belington | Barbour | 1,921 |
| Harrisville | Ritchie | 1,876 |
| St. Marys | Pleasants | 1,860 |
| Romney | Hampshire | 1,848 |
| Star City | Monongalia | 1,825 |
| Stonewood | Harrison | 1,806 |
| Logan | Logan | 1,779 |
| Ronceverte | Greenbrier | 1,765 |
| Shepherdstown | Jefferson | 1,734 |
| Montgomery | Fayette | 1,638 |
| Nutter Fort | Harrison | 1,593 |
| Salem | Harrison | 1,586 |
| New Haven | Mason | 1,560 |
| Mullens | Wyoming | 1,559 |
| Chesapeake | Kanawha | 1,554 |
| West Liberty | Ohio | 1,542 |
| Glenville | Gilmer | 1,537 |
| Glen Dale | Marshall | 1,526 |
| Eleanor | Putnam | 1,518 |
| Rainelle | Greenbrier | 1,505 |
| Parsons | Tucker | 1,485 |
| Terra Alta | Preston | 1,477 |
| Ceredo | Wayne | 1,450 |
| Benwood | Marshall | 1,420 |
| Mount Hope | Fayette | 1,414 |
| Wayne | Wayne | 1,413 |
| Mabscott | Raleigh | 1,408 |
| Ansted | Fayette | 1,404 |
| Sistersville | Tyler | 1,396 |
| Oceana | Wyoming | 1,394 |
| Sophia | Raleigh | 1,344 |
| Barrackville | Marion | 1,302 |
| Belle | Kanawha | 1,260 |
| Chapmanville | Logan | 1,256 |
| Buffalo | Putnam | 1,236 |
| Clendenin | Kanawha | 1,227 |
| Alderson | Greenbrier | 1,184 |
| Pennsboro | Ritchie | 1,171 |
| Hamlin | Lincoln | 1,142 |
| New Cumberland | Hancock | 1,103 |
Facts about Tyler County County Tyler State West Virginia Country USA Population – 2015 8,975 More Maps of Tyler County Tyler County Map, Texas List of Counties in West Virginia…