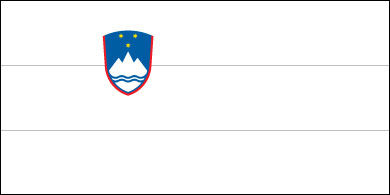 Download Picture of Blank Slovenia Flag For Kids to Color
Flag of Slovenia Description
The flag of Slovenia is a horizontal tricolor flag, with equal stripes of white, blue, and red from top to bottom.
Between the white and blue stripes, the coat of arms of Slovenia is positioned along the left or hoist side of the flag. Adopted as the official flag colors in 1848, the white, blue, and red on the Slovenian flag represent the Duchy of Carniola, which used blue and red in its coat of arms.
The coat of arms of Slovenia features Mount Triglav, the highest peak in Slovenia. Below the white mountains are the waves of the Adriatic Sea that borders Slovenia. In the sky above the mountains, there is a constellation of stars, made up of three six-pointed stars in a triangle formation. These stars represent the Counts of Celje, who ruled Slovenia in the 14th and 15th centuries. The coat of arms is shaped as a shield, outlined in red on the flag.
Slovenian Flag History
The current flag of Slovenia was officially adopted on June 27, 1991 after Slovenia achieved independence from Yugoslavia. This version of the coat of arms was designed by Marko Pogacnik. The tricolor has been used since April 7, 1848, as a symbol of a united Slovenia.
In 1945, when Slovenia became the Socialist Republic of Slovenia, a red star was centered over the Slovenian tricolor. This flag was used until the current one was adopted in 1991.
| | |
| --- | --- |
| National symbol(s): | Mount Triglav |
| National colors: | white, blue, red |
| National anthem: | |
| Name: | "Zdravljica" (A Toast) |
| Lyrics/Music: | France PRESEREN/Stanko PREMRL |
| Country | Slovenia |
| --- | --- |
| Designed by | NA |
| Adopted | 25. June 1991 |
| Revision | NA |
| Design and Colors | A horizontal tricolour of white, blue, and red; charged with the Coat of arms at the hoist side |
| Size Ratio | 1:2 |