Neighboring Countries - Indonesia, Singapore, Malaysia, Philippines,
Continent And Regions - Asia Map
Other Brunei Maps - Brunei Map, Where is Brunei, Brunei Blank Map, Brunei Road Map, Brunei River Map, Brunei Cities Map, Brunei Political Map, Brunei Physical Map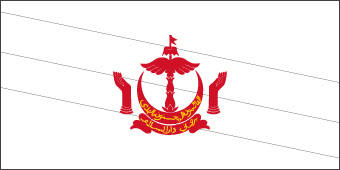 Download Picture of Blank Brunei Flag For Kids to Color
The current official flag of the nation of Brunei has been in use since 1906 when Brunei became a British protectorate. The crest on the flag was superimposed in 1959 after the promulgation of the Constitution of September 29, 1959.
The official flag of Brunei consists of a yellow base with white and black stripes that run diagonally across the flag. In the center of the Brunei flag is the coat of arms in red.
The proportion of the flag is traced as 1:2. The yellow color signifies liberality while the white color stands for morality and peace.
The crescent on the flag is a symbol of Islam. Below the crescent is a ribbon. The crescent and ribbon have Arabic inscriptions which translate to "State of Brunei, Abode of peace" and "There is no deity but God, Muhammad is the messenger of God".
| | |
| --- | --- |
| Official Name: | Nation of Brunei, the Abode of Peace |
| Proportion: | 1:2 |
| Adopted on: | September 29, 1959 |
| Location: | Located in south-east Asia on the north coast of the island of Borneo |
| Capital City: | Bandar Seri Begawan |
| Major Cities: | Belait, Temburong, Tutong |
| Area: | 2,226 square miles |
| Population: | 401,890 |
| Currency: | Brunei dollar (BND) |
| Official Language: | Bahasa Melayu |
| National Anthem: | God Bless the Sultan |
| Country | Brunei |
| --- | --- |
| Designed by | Unknown designer |
| Adopted | September 29, 1959 |
| Revision | 1906, 1959 |
| Design and Colors | The crest of Brunei in the centre, on a yellow field cut by black and white diagonal stripes (parallelograms). |
| Size Ratio | 1:2 |