Wyoming City Maps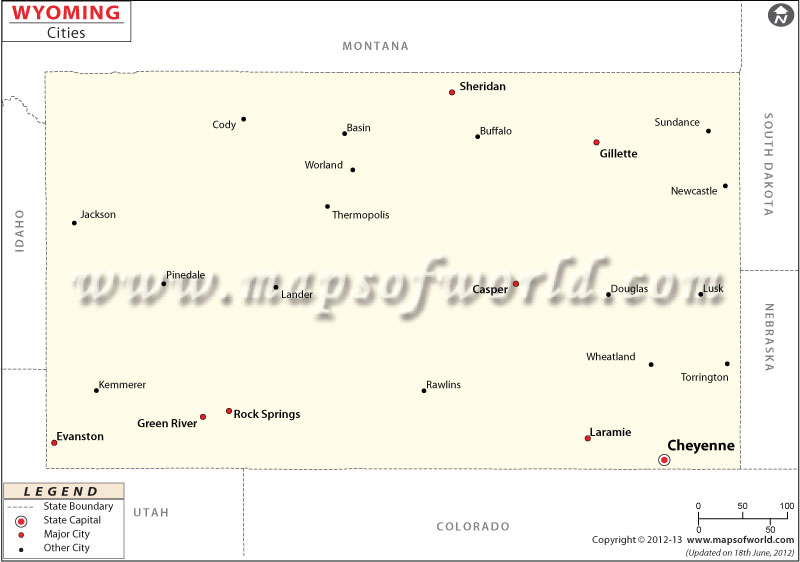 Nicknamed 'Equality State, Wyoming is a mountain state in the western United States. It borders Montana, South Dakota, Nebraska, Colorado, Utah, and Idaho. Wyoming is the second least densely populated state in the US.
There are 23 counties in the state. Cheyenne is the capital and the largest city in Wyoming. Jackson is the gateway to the Grand Teton National Park and Jackson Hole Mountain Resort. Douglas, the seat of Converse County, hosts the Wyoming State Fair.
Known as 'The Oil City', Casper is the second most populous city in the state. It is famous for its long traditions of cowboy culture. Laramie features museums and a few historical sites. Renowned for coal mining, Gillette bills itself the "Energy Capital of the Nation."
Sheridan, Rock Springs, Green River, and Evanston are other major cities in Wyoming.
Getting In and Around
Jackson Hole Airport (JAC) is the busiest airport in the state.
I-25, I-90, and I-80 are primary interstate highways in Wyoming.
List of Cities in Wyoming
| City Name | County Name | Population (2011) |
| --- | --- | --- |
| Cheyenne | Laramie | 60,096 |
| Casper | Natrona | 55,988 |
| Laramie | Albany | 31,312 |
| Gillette | Campbell | 29,389 |
| Rock Springs | Sweetwater | 23,229 |
| Sheridan | Sheridan | 17,517 |
| Green River | Sweetwater | 12,622 |
| Evanston | Uinta | 12,282 |
| Riverton | Fremont | 10,867 |
| Jackson | Teton | 9,710 |
| Cody | Park | 9,653 |
| Rawlins | Carbon | 9,203 |
| Lander | Fremont | 7,571 |
| Torrington | Goshen | 6,690 |
| Powell | Park | 6,393 |
| Douglas | Converse | 6,084 |
| Worland | Washakie | 5,458 |
| Buffalo | Johnson | 4,624 |
| Wheatland | Platte | 3,680 |
| Mills | Natrona | 3,504 |
| Newcastle | Weston | 3,485 |
| Thermopolis | Hot Springs | 3,001 |
| Kemmerer | Lincoln | 2,651 |
| Evansville | Natrona | 2,577 |
| Glenrock | Converse | 2,562 |
| Lovell | Big Horn | 2,378 |
| Bar Nunn | Natrona | 2,239 |
| Lyman | Uinta | 2,102 |
| Pinedale | Sublette | 2,009 |
| Afton | Lincoln | 1,906 |
| Greybull | Big Horn | 1,862 |
| Wright | Campbell | 1,826 |
| Saratoga | Carbon | 1,678 |
| Lusk | Niobrara | 1,571 |
| Star Valley Ranch | Lincoln | 1,501 |
| Basin | Big Horn | 1,295 |
| Mountain View | Uinta | 1,279 |
| Sundance | Crook | 1,187 |
| Guernsey | Platte | 1,165 |
| Pine Bluffs | Laramie | 1,140 |
| Marbleton | Sublette | 1,084 |
| Upton | Weston | 1,084 |
| Moorcroft | Crook | 1,013 |
| Dubois | Fremont | 982 |
| Ranchester | Sheridan | 860 |
| Hanna | Carbon | 835 |
| Alpine | Lincoln | 826 |
| Dayton | Sheridan | 760 |
| Diamondville | Lincoln | 735 |
| Cowley | Big Horn | 661 |
| Shoshoni | Fremont | 658 |
| Byron | Big Horn | 598 |
| La Barge | Lincoln | 550 |
| Big Piney | Sublette | 545 |
| Cokeville | Lincoln | 533 |
| Bear River | Uinta | 514 |
| Pine Haven | Crook | 492 |
| Lingle | Goshen | 474 |
| Hudson | Fremont | 463 |
| Wamsutter | Sweetwater | 455 |
| La Grange | Goshen | 452 |
| Grand Encampment | Carbon | 446 |
| Baggs | Carbon | 438 |
| Rolling Hills | Converse | 434 |
| Sinclair | Carbon | 431 |
| Midwest | Natrona | 410 |