Map of Utah Cities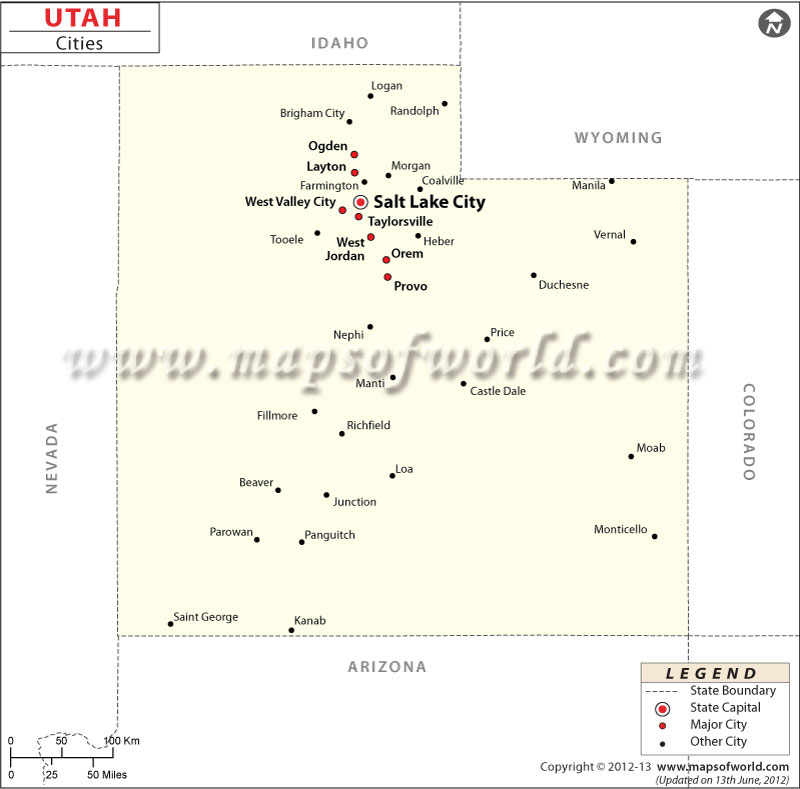 Map of Utah Cities
Learn all about the different cities in Utah with the Map of Utah Cities. This map allows you to explore the various cities of the state of Utah, making it easier to locate the cities on the map.
Cities in Utah
Utah has many different cities, and each city is unique in its own special way. Some cities have lots of people and lots of fun things to do, while others are quiet and found in the pretty countryside. Utah's cities have things that everyone can enjoy. If you like peaceful nature, exciting outdoor adventures, or cool things to see in the city, you'll definitely find something that you like.
How Many Cities are in Utah
In Utah, you'll discover a total of 248 cities. Each city adds a unique touch to the wonderful experiences you can have in the state. Whether you're drawn to the liveliness of big cities or the cozy atmosphere of small towns, Utah's cities offer a wide range of choices. You can easily locate each city on the Map of Utah Cities.
Largest Cities in Utah
The biggest cities in Utah are bustling centers filled with opportunities for entertainment and exploration. Some of the most well-known cities in Utah include Salt Lake City, West Valley City, Provo, West Jordan, Orem, and Sandy. These cities are famous for their fantastic attractions, special sites to see, and vibrant cultural scenes. Whether you're a resident or a visitor, there are countless chances to have fun and explore.
Safest Cities in Utah
Some cities in Utah really focus on making sure their residents are safe and happy. They do things to create safe and friendly places to live. Towns like Pleasant Grove, Farmington, Kaysville, Syracuse, and Lehi are known for being some of the safest cities in Utah. These cities work hard to have very little crime and make sure everyone feels really safe. This makes these cities perfect and comfortable for families and people who want to feel secure.
Best Cities to Live in Utah
Utah has a bunch of cities where life is really good and there are lots of great things to enjoy. Some of the best places to live in Utah are Salt Lake City, Provo, St. George, Ogden, and Sandy. These cities have a mix of good jobs, great schools, and fun things to do. Whether you really like being outside, learning about interesting things, or just being part of a lively community, these cities have something for everyone. They make sure you have a happy and fun life.
Feel free to explore the Map of Utah Cities, you can find all the cities marked on the map.
List of Cities in Utah

City Name
County Name
Salt Lake City
Salt Lake
West Valley City
Salt Lake
Provo
Utah
West Jordan
Salt Lake
Orem
Utah
Sandy
Salt Lake
Ogden
Weber
St. George
Washington
Layton
Davis
Taylorsville
Salt Lake
South Jordan
Salt Lake
Logan
Cache
Lehi
Utah
Murray
Salt Lake
Bountiful
Davis
Draper
Salt Lake/ Utah
Riverton
Salt Lake
Roy
Weber
Spanish Fork
Utah
Pleasant Grove
Utah
Cottonwood Heights
Salt Lake
Tooele
Tooele
Clearfield
Davis
Springville
Utah
Cedar City
Iron
Midvale
Salt Lake
Kaysville
Davis
Holladay
Salt Lake
American Fork
Utah
Syracuse
Davis
South Salt Lake
Salt Lake
Herriman
Salt Lake
Eagle Mountain
Utah
Clinton
Davis
Washington
Washington
Payson
Utah
Farmington
Davis
Brigham City
Box Elder
Saratoga Springs
Utah
North Ogden
Weber
South Ogden
Weber
North Salt Lake
Davis
Highland
Utah
Centerville
Davis
Hurricane
Washington
Heber City
Wasatch
West Haven
Weber
Lindon
Utah
Cedar Hills
Utah
Woods Cross
Davis
Alpine
Utah
West Point
Davis
Smithfield
Cache
Santaquin
Utah
Vernal
Uintah
Washington Terrace
Weber
Grantsville
Tooele
Price
Carbon
Riverdale
Weber
North Logan
Cache
Mapleton
Utah
Pleasant View
Weber
Tremonton
Box Elder
Hyrum
Cache
Bluffdale
Salt Lake
Park City
Summit
Richfield
Sevier
Hooper
Weber
Providence
Cache
Ivins
Washington
Salem
Utah
Ephraim
Sanpete
South Weber
Davis
Roosevelt
Duchesne
Santa Clara
Washington
Farr West
Weber
Enoch
Iron
Harrisville
Weber
Plain City
Weber
Nibley
Cache
Nephi
Juab
West Bountiful
Davis
Sunset
Davis
Moab
Grand
Fruit Heights
Davis
Perry
Box Elder
Kanab
Kane
La Verkin
Washington
Midway
Wasatch
Hyde Park
Cache
Morgan
Morgan
Delta
Millard
Wellsville
Cache
Blanding
San Juan
Gunnison
Sanpete
Manti
Sanpete
Mount Pleasant
Sanpete
Beaver
Beaver
Parowan
Iron
Hildale
Washington
Salina
Sevier
Richmond
Cache
Elk Ridge
Utah
Fillmore
Millard
Garland
Box Elder
Monroe
Sevier
Helper
Carbon
Huntington
Emery
Monticello
San Juan
Millville
Cache
Kamas
Summit
Willard
Box Elder
Lewiston
Cache
Naples
Uintah
River Heights
Cache
Enterprise
Washington
Marriott-Slaterville
Weber
Duchesne
Duchesne
Wellington
Carbon
Castle Dale
Emery
Ferron
Emery
Mona
Juab
Panguitch
Garfield
Oakley
Summit
Orangeville
Emery
Honeyville
Box Elder
Moroni
Sanpete
Milford
Beaver
Wendover
Tooele
Genola
Utah
Toquerville
Washington
Centerfield
Sanpete
Coalville
Summit
Woodland Hills
Utah
Uintah
Weber
East Carbon
Carbon
Mendon
Cache
Fairview
Sanpete
Francis
Summit
Fountain Green
Sanpete
Elwood
Box Elder
Aurora
Sevier
Spring City
Sanpete
Green River
Emery
Daniel
Wasatch
Goshen
Utah
Minersville
Beaver
Paradise
Cache
Bear River City
Box Elder
Elsinore
Sevier
Levan
Juab
Leeds
Washington
Ballard
Uintah
Escalante
Garfield
Annabella
Sevier
Newton
Cache
Henefer
Summit
Rocky Ridge
Juab
Redmond
Sevier
Apple Valley
Washington
Hinckley
Millard
Mantua
Box Elder
Corinne
Box Elder
Eureka
Juab
Clarkston
Cache
Hideout
Wasatch
Stockton
Tooele
Huntsville
Weber