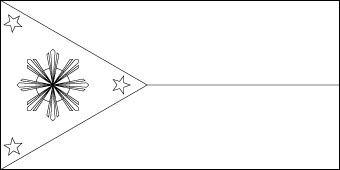 Download Picture of Philippines Flag Outline for kids to color
Philippines Flag Description
The flag of the Philippines is a bicolor flag, divided in two parts horizontally.
The upper half of the flag is blue, and the lower one is scarlet red in color. On the hoist side, a white triangle points inward from the outer corners of the flag. On the white triangle, there is a yellow sun with eight bunches of rays. In each point of the triangle, there is a five-pointed star, each representing a region of islands in the Philippines.
The blue on the flag represents peace, truth, and justice, while the red shows patriotism. The yellow sun represents unity, freedom, democracy, and sovereignty, and each of its rays represents one of the original provinces of the Philippines, at the time of the Revolution in 1896.
| | |
| --- | --- |
| National symbol(s): | three stars and sun, Philippine eagle |
| National colors: | red, white, blue, yellow |
| National anthem: | |
| Name: | "Lupang Hinirang" (Chosen Land) |
| Lyrics/Music: | Jose PALMA (revised by Felipe PADILLA de Leon)/Julian FELIPE |
| | | |
| --- | --- | --- |
| | Facts about Philippines flag | |
| Country | Philippines |
| --- | --- |
| Designed by | Emilio Aguinaldo |
| Adopted | 12 June, 1898 |
| Revision | NA |
| Design and Colors | A horizontal bicolor of blue and scarlet red; with a white equilateral triangle based at the hoist containing three, 5-pointed gold stars at its vertices, and an 8-rayed gold sun at its center |
| Size Ratio | 1:2 |