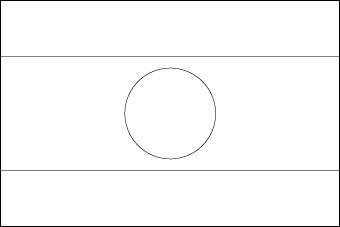 Download Picture of Laos Flag Outline for kids to color
The ratio of the flag 's width to its height is 2:3. All the colors have their own significances .
The red color signify bloodshed and sacrifice in the freedom struggle. Blue represents resources of the country and the white moon is the moon over Mekong river.
| | |
| --- | --- |
| Official Name: | Sathalanalath Pasathipatai Pasasonlao |
| Capital: | Vientiane |
| Location: | Land locked nation in south eastern Asia, enclosed by China Vietnam Cambodia Thailand and Burma. |
| Area: | 236,800 Sq. km. |
| Official Languages: | Lao |
| National Flag: | Three horizontal stripes of red blue red with blue of double width with in the center a large white disc. |
| Flag Ratio: | 2:3 |
| National Anthem: | Pheng Xat Lao Lao National Anthem (1947) |
| National symbol(s): | elephant |
| National colors: | red, white, blue |
| National anthem: | |
| Name: | "Pheng Xat Lao" (Hymn of the Lao People) |
| Lyrics/Music: | SISANA Sisane/THONGDY Sounthonevichit |
| Country | Lao, People's Democratic Republic |
| --- | --- |
| Designed by | NA |
| Adopted | 2. December 1975 |
| Revision | NA |
| Design and Colors | A horizontal triband of red, blue (double height) and red; charged with a white circle in the centre (the diameter of white circle is four-fifths the height of blue band) |
| Size Ratio | 2:3 |