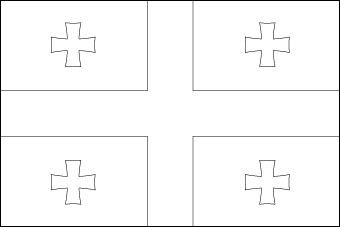 Download Picture of Georgia Flag Outline for kids to color
Georgia Flag Description The flag of Georgia is white with a large red cross centered over it, stretching from each edge of the flag. In each of the four white rectangles created by the cross, a red Blonisi (or bolnur-katskhuri) crosses. The large cross is known as St. George's Cross and is also used on the flag of England. In the 5th century, this cross was used to represent the Georgian kingdom. The crosses may represent the five Holy Wounds that Jesus suffered during his crucifixion.
History of the Flag of Georgia
The red St. George's cross has represented Georgia since the 5th century, and the flag with all five crosses has been used since around the 13th century. The extra four crosses may have been added when George V ruled the kingdom, incorporating the Christian influence brought by the crusaders.
Though this flag was used since medieval times, it fell out of use for many years. Georgia used a flag of wine red, black, and white from 1918 to 1921, and again from 1990 to 2004. The colors of that flag represented the good times of the past and future with red, Russian rule with black, and hope and peace with white.
Georgia fell under Soviet rule, using a red and blue Soviet flag until 1991 when the country fought for independence and saw the five-cross flag as a symbol of Georgian unity and independence. There was controversy over using this flag, and the country officially readopted the pre-Soviet flag of wine red, white, and black for a short period of time. Georgia officially adopted the flag on January 14, 2004.
| | |
| --- | --- |
| National symbol(s): | Saint George, lion |
| National colors: | red, white |
| National anthem: | |
| Name: | "Tavisupleba" (Liberty) |
| Lyrics/Music: | Davit MAGRADSE/Zakaria PALIASHVILI (adapted by Joseb KETSCHAKMADSE) |
| | | |
| --- | --- | --- |
| | Fact about the Georgia flag | |
| Country | Georgia |
| --- | --- |
| Designed by | NA |
| Adopted | January 14, 2004 |
| Revision | |
| Design and Colors | white rectangle, with a large red cross in its central portion touching all four sides of the flag. In the four corners, there are four crosses of the same color as the large cross. |
| Size Ratio | 2:3 |