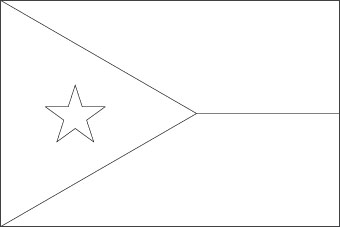 Download Picture of Blank Djibouti Flag For Kids to Color
Designed Mahamoud Harbi, the national flag of Djibouti was formally approved on June 27,
1977, the day the country gained independence from the French rule. The Djibouti Flag is made up of two equal horizontal bands: light blue at the top and green at the bottom of the flag. On the hoist side is a white isosceles triangle that bears a red five-pointed red star. Each of the colors used in the flag has a symbolic meaning. The color blue stands for the clear blue skies and the pristine waters of Djibouti; green symbolizes the earth and the lush greenery of the country's landscape; white is the color of peace and represents harmony.
The red star in the center of the flag stands for unity in the culturally diverse country and also represents the areas where the Somalis live. The flag of Djibouti was first hoisted in 1972 by the African National Liberation Union. In 1972 the colors had a different interpretation. The green color represented the Afar people and light blue stood for the Issas. These were the people who originally voted for the country to join the new Republic of Somalia.
The design of the national flag of Djibouti has been borrowed from the flag of the Ligue Populaire Africaine pour l'Independence (LPAI). The LPAI flag was different from the present flag of Djibouti as it had a red triangle containing a white star; the present flag of Djibouti has a red star with a white background and is placed in an upright position.
| | |
| --- | --- |
| Official Name: | The Republic of Djibouti |
| Flag Proportion: | 4:7 |
| Adopted on: | June 27, 1977 |
| Designed by : | Mahamoud Harbi |
| Location: | Located inAfrica; Bordered by Eritrea, Somalia, and Ethiopia |
| Capital City: | Djibouti |
| Major Cities: | Dorra, Galafi, Tadjourah, Ali Sabieh |
| Area: | 8,958 square miles |
| Population: | 906,000 |
| Currency: | Franc (DJF) |
| Official Languages: | French, Arabic |
| National Anthem: | Djibouti |
| National symbol(s): | red star |
| National colors: | light blue, green, white, red |
| National anthem: | |
| Name: | "Jabuuti" (Djibouti) |
| Lyrics/Music: | Aden ELMI/Abdi ROBLEH |
| Country | Djibouti |
| --- | --- |
| Designed by | NA |
| Adopted | June 27, 1977 |
| Revision | 1896, 1977 |
| Design and Colors | A horizontal bi-color of light blue and light green, with a white isosceles triangle at the hoist bearing a red star in its center. |
| Size Ratio | 2:3 |