United Arab Emirates Cities Map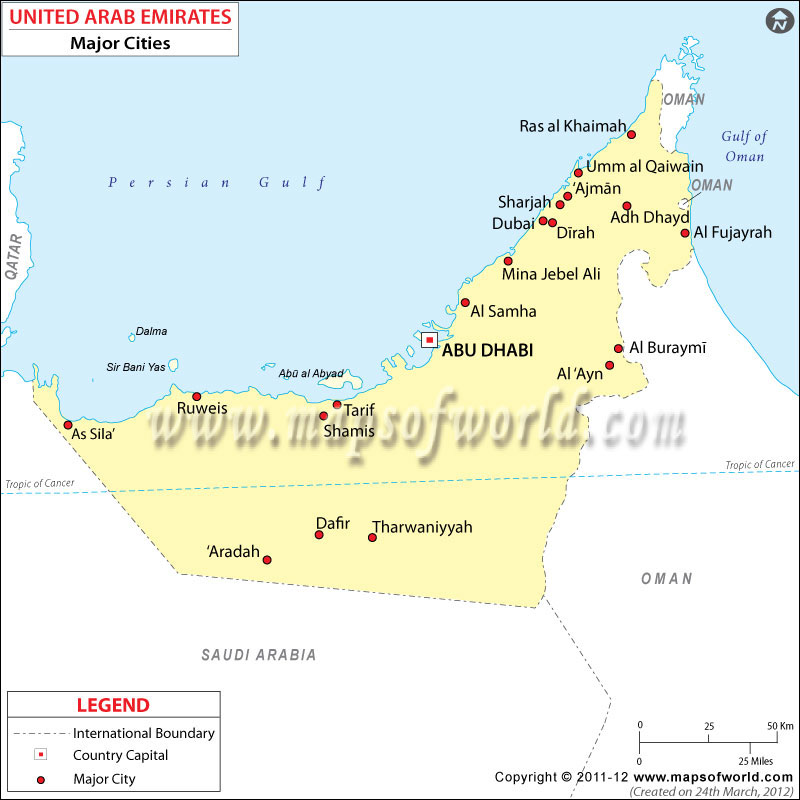 United Arab Emirates, a desert country is a federation of seven independent states which became an independent country in 1971. Shopping festivals, real estates projects, desert safaris, exotic cuisine and world class hotels, marvel all the visitors. UAE is quite an interesting contrast of cultures where DJ's play music until the muezzins are heard in the morning and designer clothes are sold in the country where burka is prominent.
United Arab Emirates Cities bear a rich cultural heritage besides being important centers of economic activity. Some of the cities in United Arab Emirates are Al Ain, Ruwais, Dibba, Khor Fakkan, Jebel Ali and Hatta.
Al Ain is the agricultural center of United Arab Emirates. The city is also known as the Garden city. The city's attractions include the Al Ain museum and the Jebel Hafit Mountain. Most of the international flights fly to this city therefore getting to this oasis in the Middle of the Desert is easy.
The present day Ruwais is an industrial town of the Middle East. The town was built to meet the increasing demands of United Arab Emirates for oil and natural gas. Today Ruwais is a modern city offering all the amenities thus contributing to the healthy and comfortable environment.
Dibba is a sea side village. It is partly owned by Hisn Dibba, Sultanate of Oman (Dibba Bayah) and Fujairah (Dibba Muhallab). The city finds its mention in the Islamic history as it was in Dibba that the Ridda war took place.
Khor Fakkan is situated on the Gulf of Oman, which is on the eastern coast of United Arab Emirates. It is one of the United Arab Emirates cities bearing a rich history of human settlement. In contemporary times it is one of the most frequented tourist spots and has much to offer to the visitors.
Jebel Ali is a port city and is considered as a part of United Arab Emirates. The Mina Jebel Ali port as it is popularly known is the largest port in the Middle East.
Hatta is one among the cities in United Arab Emirates and is very popular among the tourists. The city houses a number of forts and heritage sites, which are special attractions of the city.
Travel to United Arab Emirates enables the visitors to taste the warmth and hospitality of the inhabitants residing in United Arab Emirates cities.