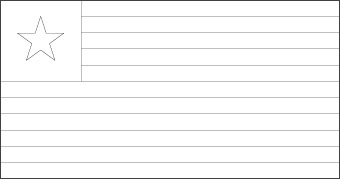 Download Picture of Blank Liberia Flag For Kids
The flag of Liberia has the same red and white stripes and a blue square with a white star at the corner like that of U.S.A.
The white star symbolizes the freedom that the ex-slaves were given and the blue square stands for the African mainland. The eleven stripes on the flag of Liberia represent the eleven signatories of the Liberian Declaration of Independence. The colors red and white symbolizes the courage and moral excellence of these signatories.
| Country | Liberia |
| --- | --- |
| Designed by | NA |
| Adopted | August 24,1847 |
| Revision | NA |
| Design and Colors | Eleven horizontal stripes alternating red and white; in the canton, a white star on a blue field |
| Size Ratio | 10:19 |