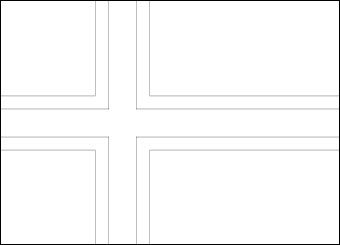 Download Picture of Iceland Flag Outline for kids to color
Flag of Iceland Description
The flag of Iceland is royal blue with an off-center red cross outlined in white. The flag's cross is perpendicular, and runs from top to bottom and left to right.
The intersection of the cross is slight to the left of the center of the rectangular national flag.
Each of the colors of the flag of Iceland represents a major feature of the nation's geography. The blue represents the Atlantic Ocean that surrounds the country, the red depicts the fires of the nation's volcanoes, and the white shows the snow that covers much of Iceland.
Flag of Iceland History
Designed by Matthias Thordarson, the flag of Iceland's designs of cross was borrowed from the flag of Denmark, known as the Dannebrog. The cross is a symbol of Christianity and is also found in the flags of other Scandinavian nations.
The flag was officially adopted in 1915, but it was met with disapproval from the King of Iceland who refused to accept the blue-white-red combination as the national flag. On June 19, 1915, a royal decree allowed the usage of the flag on land and by November 30, 1918, the Icelandic king approved the flag as the national ensign.
When Iceland became a republic in June 1944, the current flag was sealed into law as the official flag of the Republic of Iceland.
| | |
| --- | --- |
| National symbol(s): | gyrfalcon |
| National colors: | blue, white, red |
| National anthem: | |
| Name: | "Lofsongur" (Song of Praise) |
| Lyrics/Music: | Matthias JOCHUMSSON/Sveinbjorn SVEINBJORNSSON |
| | | |
| --- | --- | --- |
| | Fact about the Iceland flag | |
| Country | Iceland |
| --- | --- |
| Designed by | Matthías Þórðarson |
| Adopted | 1944 |
| Revision | NA |
| Design and Colors | A white-fimbriated red Nordic cross on a blue field |
| Size Ratio | 18:25 |