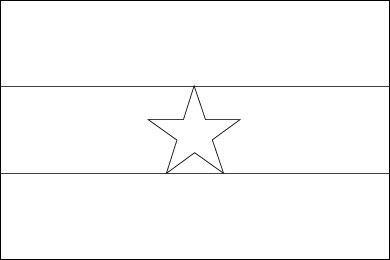 Download Picture of Blank Ghana Flag For Kids to Color
The flag of the Republic of Ghana has three horizontal stripes: red (top), gold (middle), and green (bottom). The colors used in the flag are the Pan-African colors.
Red represents the revolutionary spirit and the sacrifices of the country's martyrs in their fight for independence; gold symbolizes the abundance of minerals found in this nation; and the green represents the lush greenery, natural resources, and the forests of Ghana.
The middle stripe features a five-pointed black star that stands for the emancipation of the nation and the unity and patriotic spirit displayed by the countrymen in their struggle against colonialism. The star was borrowed from the flag of a shipping line called Black Star Line. The football team of Ghana derives its nickname, the Black Stars, from this star on the flag.
The flag was designed by Mrs. Theodosia Salome Okoh and was first adopted on March 6, 1957, following the country's independence from British rule. The flag underwent a few alterations; between 1964 and 1966 when the middle gold stripe was replaced by a white one. The current version of the flag of the Republic of Ghana was adopted on February 28, 1966.
The Ghana national flag is heavily influenced by the Ethiopian flag; it is the first African country after Ethiopia that uses Pan-African colors in its national flag.
| | |
| --- | --- |
| Official Name: | Republic of Ghana |
| Flag Proportion: | 2:3 |
| Adopted on: | 1957 |
| Designed by:  | Mrs. Theodosia Salome Okoh |
| Location: | Located in West Africa sharing borders with Cote D'Ivoire, Togo, Burkina Faso, and the Gulf of Guinea |
| Capital City: | Accra |
| Major Cities: | Tamale, Kumasi, Bolgatanga |
| Area: | 92,098 square miles / 238533 square kilometers |
| Population: | 31.1 million (2020 estimate) |
| Currency: | Ghana Cedi (GHS) |
| Official Language: | English |
| National Anthem: | God Bless Our Homeland Ghana |
| National symbol(s): | black star, golden eagle |
| National colors: | red, yellow, green, black |
| National anthem: | |
| Name: | "God Bless Our Homeland Ghana" |
| Lyrics/Music: | unknown/Philip GBEHO |
| | | |
| --- | --- | --- |
| | Fact about the Ghana flag | |
| Country | Ghana |
| --- | --- |
| Designed by | Theodosia Okoh |
| Adopted | 1957 (readopted 1966) |
| Revision | 1962 |
| Design and Colors | A horizontal triband of red, gold, and green, charged with a black star in the center |
| Size Ratio | 2:3 |