Comoros Cities Map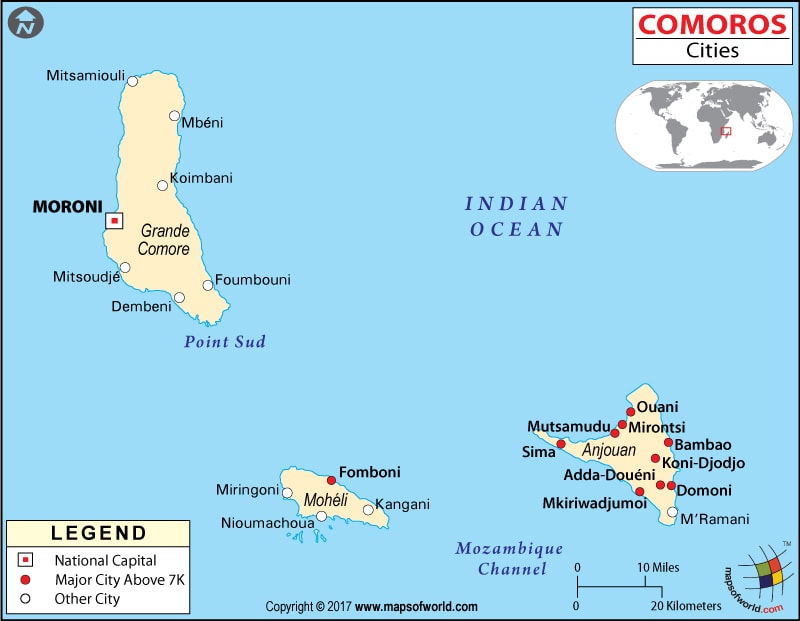 The maximum population of Comoros lives in the cities in Comoros. Each of the cities in Comoros has a unique characteristic of their own and bounds in a number of tourist attractions.
The cities of Comoros are well connected through a number of transportation systems. Accommodation can be availed in a number of hotels located in the cities. The major Comoros cities include:
Domoni
Fomboni
Mitsamiouli
Moroni
Mutsamudu
The capital city of Comoros is Moroni. In Moroni, there is an international airport, which is served by a number of airlines operating regular flights from international destinations. The harbor located in the city also connects the place with all the other islands and the islets.
Domoni is the second largest city located in the island of Anjouan. Fomboni is famous for its tranquil and quiet beaches. These beaches are ideal for camping. Kave Hoani, Domoni Beach, Miringoni Beach, and Nioumachoua Beach are some of the famous beaches. Mitsamiouli a city located in the north of Grand Comore is well known for the diving facilities. The city of Mutsamudu is built in Swahili-Shirazi style. The city still possesses 17th-century houses with carved doors and twisting alleyways. The city also has mosques and a citadel.
| City Name | population |
| --- | --- |
| Moroni | 42 872 |
| Moutsamoudou | 23 594 |
| Fomboni | 14 966 |
| Domoni | 14 509 |
| Sima | 10 374 |
| Ouani | 10 179 |
| Mirontsi | 10 168 |
| Mkiriwadjumoi | 8 749 |
| Koni-Djodjo | 8 109 |
| Moya | 7 529 |