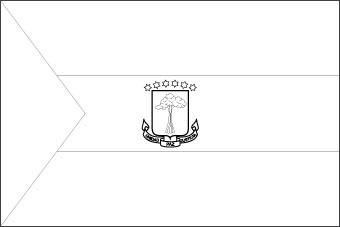 Download Picture of Blank Equatorial Guinea Flag For Kids to Color
The flag of Equatorial Guinea was first flown on October 12, 1968, the day Equatorial Guinea became an independent country. However, the flag underwent modifications; in the 1970s the coat of arms was replaced with a different emblem. In 1979, the coat of arms was re-imposed on the flag. The current flag of Equatorial Guinea was re-adopted on August 21, 1979.
The flag of Equatorial Guinea features three horizontal stripes: green, white, and red, from top to bottom. There is a blue triangle pointing away from the flagpole on the hoist side of the flag. The middle stripe of the flag features the national coat of arms that depicts a shield with a silk cotton tree. It is also known as the "God's tree," and represents the historical link between Equatorial Guinea and Spain. Six yellow stars crown the tree; the words, "Unidad Paz Justica" – "Unity Peace Justice" are inscribed below the shield.
The six yellow stars in the coat of arms represent the mainland and the five main islands of the country: Annobon, Bioko, Corisco, Great Elobey, and Small Elobey.
The green band of the flag symbolizes the lush vegetation, the fertility of crops, and the abundance of forests in the country. White is a symbol of peace and harmony that the country lives. Red signifies the noble patriotic spirit and the bloodshed in the struggle for independence. The color blue stands for the clear pristine waters of the vast seas that connect the country with the islands.
| | |
| --- | --- |
| Official Name: | The Republic of Equatorial Guinea |
| Flag Proportion: | 2 :3 |
| Adopted on: | August 21, 1979 |
| Location: | Located in Africa |
| Capital City: | Malabo |
| Major Cities: | Bata, Micomeseng, Rebola, Rio Campo |
| Area: | 10,830 square miles |
| Population: | 1674908 lakhs, a growth rate of 2.8 % per annum |
| Currency: | Central African Franc (XAF) |
| Official Languages: | Spanish, French, Portuguese |
| National Anthem: | Let us walk the path of our Immense Happiness |
| National symbol(s): | silk cotton tree |
| National colors: | green, white, red, blue |
| National anthem: | |
| Name: | "Caminemos pisando la senda" (Let Us Tread the Path) |
| Lyrics/Music: | Atanasio Ndongo MIYONO/Atanasio Ndongo MIYONO or Ramiro Sanchez LOPEZ (disputed) |
| | | |
| --- | --- | --- |
| | Fact about the Equatorial Guinea flag | |
| Country | Equatorial Guinea |
| --- | --- |
| Designed by | NA |
| Adopted | August 21, 1979 |
| Revision | NA |
| Design and Colors | A horizontal tricolor of green, white, and red with a blue isosceles triangle based on the hoist side and the National Coat of arms of Equatorial Guinea centered in the white band. |
| Size Ratio | 2:3 |