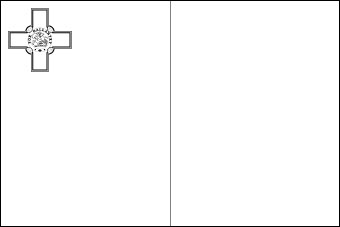 Download Picture of Malta Flag Outline for kids to color
On the left upper corner of the white band there is the George Cross whose edges are colored in red.
This Cross of honor in picture of Malta Flag was presented to the people of Malta for their outstanding bravery in World War II. This Cross also makes the Malta flag unique as it is the adornment of UK and is demonstrated in Malta Flag like no other countries in the world.
| | |
| --- | --- |
| Official Name: | Repubblika t Malta |
| Capital: | Valletta |
| Location: | An Islands are Malta Gozo and Comino |
| Area: | 316, sq. km |
| Official Languages: | Maltese English |
| National Flag: | 2 Equal vertical stripes white in the hoist and red in fly with a representation of the George cross medal edged with red in the canton. |
| Flag Ratio: | 2:3 |
| National Anthem: | Innu Malti Hymn of Malta (1945) |
| National symbol(s): | Maltese eight-pointed cross |
| National colors: | red, white |
| National anthem: | |
| Name: | "L-Innu Malti" (The Maltese Anthem) |
| Lyrics/Music: | Dun Karm PSAILA/Robert SAMMUT |
| Country | Malta |
| --- | --- |
| Designed by | NA |
| Adopted | 21. September 1964 |
| Revision | NA |
| Design and Colors | A vertical bicolor of white and red; charged with a representation of George Cross (showing a design of St. George and the Dragon), outlined in red on the upper hoist side of the white band. |
| Size Ratio | 2:3 |