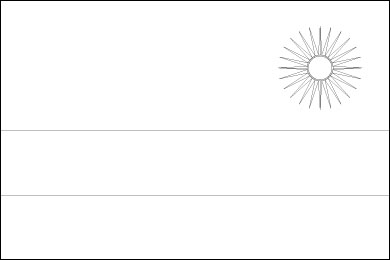 Download Picture of Blank Rwanda Flag For Kids to Color
The current flag of Rwanda was designed by a local artist, Alphonse Kirimbenecyo. The yellow and green stripes are of equal length while the blue stripe is double the size of those stripes.
The blue stripe is symbolic of happiness and peace. Yellow stands for the country's mineral wealth and economic development. The green stripe represents the natural resources and prosperity of the country.
The sun and its rays in the Rwanda flag represent unity, transparency and enlightenment from ignorance.
| | |
| --- | --- |
| Official Name: | Republika Y ' u Rwanda |
| Capital: | Kigali |
| Location: | In central Africa, landlocked by Uganda Zaire Burundi and Tanzania. |
| Area: | 26, 38 Sq. km. |
| Official Languages: | French Kiniarwanda |
| National Flag: | Three equal vertical panels of red, yellow and green (Left to right) the letter R in black is super imposed on the central panel. |
| Flag Ratio: | 2:3 |
| National Anthem: | Rwanda nziza Beautiful Rwanda (2001) |
| National symbol(s): | traditional woven basket with peaked lid |
| National colors: | blue, yellow, green |
| National anthem: | |
| Name: | "Rwanda nziza" (Rwanda, Our Beautiful Country) |
| Lyrics/Music: | Faustin MURIGO/Jean-Bosco HASHAKAIMANA |
| Country | Rwanda |
| --- | --- |
| Designed by | Alphonse Kirimobenecyo |
| Adopted | 25. October 2001 |
| Revision | NA |
| Design and Colors | A horizontal tricolour of blue (double width), yellow and green; charged with a sun-yellow sun in the upper-hoist side corner |
| Size Ratio | 2:3 |