Canada elections: Justin Trudeau's victory and its implications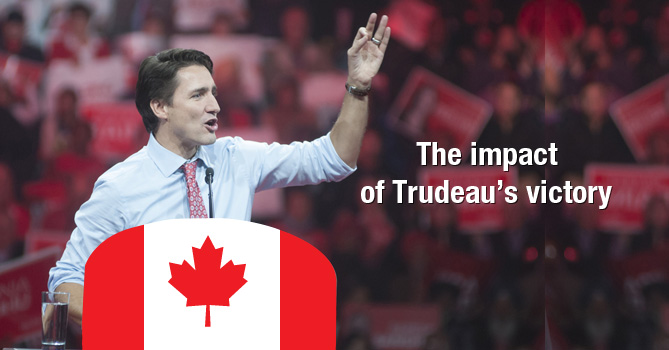 Justin Trudeau is set to become the next prime minister of Canada after he led his Liberal Party to a sensational victory in the general election, ending the ten-year Conservative rule of Stephen Harper.
According to preliminary results, the Liberals have bagged 184 seats, comfortably above the 170 needed to form a majority in the 338-seat House of Commons.
It has been a remarkable turnaround for the Liberals, who were in the ICU after slipping to a disastrous 34 seats in the 2011 election.
Who is Trudeau?
The 43-year-old Justin Trudeau will follow in the footsteps of his father, Pierre Trudeau, a legend in Canadian politics who served as prime minister for 16 years until 1984.
Even a few months before the 2015 elections, few pundits could have predicted the "Trudeaumania" that swept the country. With youth on his side, Trudeau, a father of three, promised hope and change to large sections of the country unhappy with where the country was heading under the Conservatives.
Trudeau was not taken seriously by the political establishment initially, and his opponents openly questioned his aptitude and capability to run the country. But ultimately Trudeau's campaign of hope won the day.
What a Liberal government means for Canada — and the world
End of combat mission in Iraq and Syria
The Liberals are not in favor of continuing Canada's participation in the bombing mission in Iraq and Syria. However, Trudeau is very much in support of fighting the Islamic State. So, the next few months could see Canada change to a role that involves training local forces in Iraq and Syria and increasing humanitarian aid, instead of bombing raids.
Yes to Keystone XL pipeline
Though publicly not an enthusiastic supporter of the Keystone XL pipeline, which has enraged environmentalists in both the U.S. and Canada, Trudeau is said to be in favor of building the pipe that will carry crude from the Alberta oil sands to the American Gulf Coast.
Tax proposals and child benefits
Trudeau has promised to usher in tax changes, including tax hikes for the highest earners and cuts for middle-income groups. Effectively, it could mean a new tax bracket of 33 per cent for incomes above $200,000. One of his most watched promises will be the Canada Child Benefit, which will replace all existing child benefit schemes, with lower-income families getting more money.
Infrastructure investments
A massive infrastructure thrust has been a major campaign issue for the Liberals. While this comes with a hefty bill, Trudeau believes huge investments on infrastructure will pave the road for jobs and long-term growth. The plan includes pumping in about $5 billion per year in additional infrastructure. It is a bold but risky move.
A more open refugee policy
The Trudeau administration will almost certainly be more welcoming towards refugees at a time when Europe faces its biggest migrant crisis since World War 2. Last month, Trudeau alleged that Harper was not doing enough to resettle Syrian refugees in Canada. The Liberal Party leader said concerns about security should not be an "excuse to close our doors". That is likely to be the guiding philosophy of the new government on refugees.
Justin Trudeau sworn-in as Prime Minister of Canada
Justin Trudeau has been sworn in as the Prime Minister of Canada. As per media reports 43-year-old Trudeau has become the second youngest Prime Minister of the country. A remarkable feature of his new cabinet is that 15 are men and 15 women. It is for the first time in the history of the country that there have been an equal number of women in the cabinet.
Read More
Who will be the next U.S. President?
New Hampshire results give momentum to US Presidential polls
US Presidential Election 2016 Facts
Survival of fittest: US presidential campaign 2016
Taiwan elects first female President
Iowa Caucus kicks off US Presidential nomination process
Source:
http://www.huffingtonpost.ca/2015/10/19/canada-election-change-government-trudeau-liberals_n_8333446.html
http://www.theglobeandmail.com/news/politics/trudeau-rides-national-desire-for-change-to-majority-government/article26882041/
Trudeau's poised to name his cabinet. Here's what the newly minted ministers will face