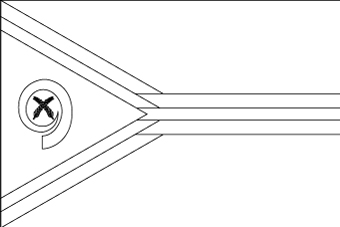 Download Picture of Blank Vanuatu Flag For Kids to Color
There is a black colored triangle on the hoist side of the black which also consists of the national emblem of Republic of Vanuatu. There is thin yellow line inside the black 'Y' which represents sunshine and Christianity which is the most practiced religion of Vanuatu.
The black color signifies the Melanesian population and the red part symbolizes bloodshed. The green color on the national flag of Vanuatu symbolizes the lush green vegetation and crop growing lands. The conventional symbol of prosperity of the Vanuatu culture is depicted on the national flag in the form of the emblem.
| | |
| --- | --- |
| Official Name: | Repablik blong Vanuatu |
| Capital: | Vila on Efate Island. |
| Location: | On more than 30 islands in Melanesia the largest being Espiritu Santo Efate and Malakula. |
| Area: | 12, 200 Sq. km |
| Official Languages: | English and Europeans |
| National Flag: | Red over green with a black triangle in the hoist the three parts being divided by fimbriations of black and yellow and in the center of the black triangle a boar tusk overlaid by two crossed fern leaves. |
| National Anthem: | Yumi, Yumi, "Yumi" "We", We, "We" (1980) |
| National symbol(s): | boar's tusk with crossed fern fronds |
| National colors: | red, black, green, yellow |
| National anthem: | |
| Name: | "Yumi, Yumi, Yumi" (We, We, We) |
| Lyrics/Music: | Francois Vincent AYSSAV |
| Country | Vanuatu |
| --- | --- |
| Designed by | NA |
| Adopted | 18. February 1980 |
| Revision | NA |
| Design and Colors | A horizontal bicolour of red and green; with a black triangle based on the hoist bearing a yellow tusk and fern. Over the partition lines is a gold pall edged in black |
| Size Ratio | 19:36 |