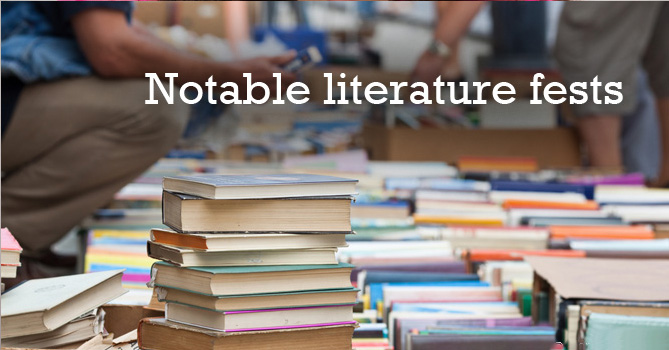 The Emirates Festival of Literature held in Dubai every year is one of the leading literature fests of the world. It is normally held during March. It is regarded as a comparatively new entrant to the domain of literary fests; however, it has already become one of the leading congregations of book lovers in the Middle East. The 2015 edition was attended by the likes of McCall Smith, Jasper Fforde, David Mitchell, and Markus Zusak, all of whom happen to be bestselling authors. This festival provides attendees like common readers the opportunity to learn tricks of the trade from their favorite illustrators and writers or just soak up their wonderful conversations. Entry for interested readers in the festival is through tickets. Else, one may also take part as a volunteer, who are referred to as Festival Friends.
Irrawaddy Lit Fest
The Irrawaddy Lit Fest was started in 2013 and ever since has been patronized by Aung Suu Kyi. It is normally held in March at Mandalay in Myanmar. It was started by Jane Heyn, the wife of Andrew Heyn, who was then the British Ambassador to Myanmar. One of the most unique features of this festival is that it allows Burmese writers to get in touch and exchange notes with writers from other countries. In the previous couple of editions authors such as Thant Myint U, Vikram Seth, Timothy Garton-Ash, and William Dalrymple have graced the platform. In 2015, authors like Ian McEwan, Annalena McAfee, and Anne Pasternak-Slater attended the festival.
Los Angeles Times Festival of Books
The Los Angeles Times Festival of Books is held each year in Los Angeles during April. It was started in 1996 in order to create a union of people who wanted to read books and ones who wanted to create them. Nowadays, this festival is celebrated for two days and is a wonderful fusion of fiction, music, poetry, and fun activities such as food, art, photography, and others. This contributes to the unique charm of the festival. The entry for this festival is free.
PEN World Voices Festival
The PEN World Voices Festival is organized by Poets, Essayists and Novelists (PEN), which is a worldwide association comprising editors and writers. It is normally held during May in New York. One of the unique aspects of the festival is that it has a theme every year. The lineup of literary figures who attend the event each year is noteworthy as well. The 2015 edition was attended by the likes of Richard Flanagan and Tom Stoppard and Chimamanda Ngozi Adichie acted as the festival's curator and provided the ending lecture. The dignitaries also discuss issues such as gender, genocide, and poetry during the festival.
Hay Festival of Literature & Arts
The Hay Festival of Literature & Arts is held every year during May or June in Hay-on-Wye Wales. It has been dubbed as "The Woodstock of the mind" by none other than Bill Clinton. The festival attempts to bring people together and lets them think about the present global conditions and also envision as to how it can be. The festival features a wide range of activities such as book readings, sessions of stand-up comedy, musical performances, and exhibitions of art and photography. The lovely setting only adds to the festival's charm. The festival is highly popular around the world and variations of the festival are held in locations as far as Beirut, Kerala, and Cartagena, making it perhaps the only literary fest in that regard. In fact, it has also inspired the FLIP Brazil International Literary Festival, which is held during July in Paraty, Rio de Janeiro. Interested readers can buy tickets on the festival's homepage.
LETTERATURE – International Literary Festival
The International Literary Festival is held in Rome each year for a month during summer. Right now it is celebrated at the Piazza del Campidoglio, a historic location, and previously it was organized at the Forum. A major highlight of this festival is that it gathers writers from around the world to discuss works that are yet to be published thus giving readers a taste of things to come. There is also a theme each year. And, just as you would expect in Italy, there is a whole heap of great food and lot of fantastic music to enrich and enliven the atmosphere. This festival has been attended by the likes of Margaret Atwood, Joshua Ferris, and Jhumpa Lahiri. Entry to the festival is free but only on a first-come-first basis.
Old Peculiar Crime Writing Festival
The Old Peculiar Crime Writing Festival is perhaps the only one of its kind in the world that is dedicated to crime fiction. At least, it is the largest of its kind in Europe. It is held each year during July in Harrogate, UK. It provides an ideal opportunity for aspiring crime fiction writers to take part in various workshops on crime writing. You can also get in touch with the finest writers of crime fiction and show them your best work and get instant feedback and reaction from them. The festival is organized at a hotel in Yorkshire, where the luxuries on offer will please you as well. This festival is also supposed to be the birthplace of upcoming crime fiction authors. Entry is by tickets.
Apart from this, there are several notable literary fests around the world. They may be enumerated as below:
Jaipur Literary Festival, Rajasthan
National Book Festival, Washington DC
Edinburgh International Book Festival
Wigtown Book Festival, Scotland
Shanghai Literary Festival
Agatha Christie Festival, Torquay, UK
Words by the Water Festival, Cumbria UK
Brooklyn Book Festival, US
Southern Literary Festival, Mississippi
International Festival of Authors, Canada
Sydney Writers Festival
International Literature Festival, Berlin
Stoke Newington Literary Festival, UK
Vancouver Writers Festival
Port Eliot Festival, Cornwall UK
Cheltenham Literature Festival