Boko Haram – all you need to know about it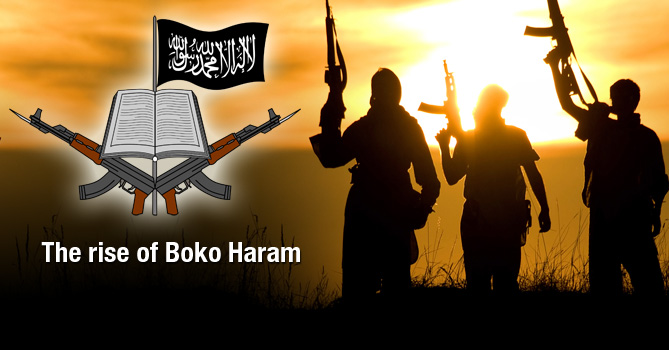 Boko Haram is also known as Wilayat Gharb Afriqiyaah, a name that it has given itself. The name means the West Africa Province of the Islamic state. In a way, it can be regarded as being similar to the ISIL (Islamic State of Israel and the Levant). Boko Haram is also referred to as Jama'at Ahl as-Sunnah lid-Da'wah wa'l-Jihad. These words mean "Group of the People of Sunnah for Preaching and Jihad". This extremist group operates out of northeastern Nigeria and is active in other countries such as Chad, northern parts of Cameroon, and Niger. Abubakar Shekau leads the group.
The group was founded in 2002 by Mohammed Yusuf and follows the ideologies of Wahabism, Islamic fundamentalism, and Salafism. It has had three headquarters till date. The one at Gwoza, Borno in Nigeria, was active till March 2015. It also has a headquarters at Sambisa Forest in Borno itself. This has been used from March 2015 onwards. It operated from Marte in Nigeria from April to September 2015. At present it has around 7 to 10 thousand members. It is also affiliated to the ISIL. It previously had links with Al Qaeda. Its main enemies are the governments of Nigeria, Chad, Cameroon, Benin, and Niger.
Apart from the U.S., countries such as New Zealand, Australia, the United Kingdom, the United Arab Emirates, and Canada have declared it as a terror group. Till date, the terror group has attracted eyeballs for its massive amount of killings, kidnappings, massacres, raids and armed confrontation with the armies of various countries where it has tried to establish its presence.
Background
 The group was founded in Maiduguri, which is the capital of Borno – a state in northeastern Nigeria. It started off as a school and religious complex that drew people from the economically-disadvantaged families in the region as well as other nations. The political aim of this center was to establish an Islamic state. It also wished to act as an entity that would recruit jihadis to achieve its stated aim. Yusuf denounced the corruption prevalent in governance and police. His followers were mostly youth who had no jobs. Many have assumed that Yusuf exploited the general public angst at the way governance was happening in Nigeria and drew a connection to influence from the West to further his cause.
It is said that he used the infrastructure created in Borno by Jama'at Izalatil Bidiawa Iqamatus Sunnah or Izala Society to get more members. Izala Society is a conservative Islamic sect, which enjoys a high degree of popularity. However, soon Yusuf broke away from Izala and formed his own group. In its initial years the Nigerian Government welcomed Izala and till 2009 Boko Haram was a peaceful entity as well. It even relocated to the far-flung parts of northeastern Nigeria. It was at this time that it developed a more militant character and the government also paid no heed to warnings about the aforementioned developments thus perhaps contributing to its growth in the end. In fact, things reached such a head that Mohammed Yusuf was executed in July 2009 following a gory uprising.
Relation with ISIL
It was on March 7 this year that Abubakar Shekau pledged the allegiance of Boko Haram to ISIL. It did this by posting an audio message on its Twitter account. Sami Usman Kukasheka, the spokesperson of the Nigerian Army, interpreted this as a sign of weakness from the militant outfit. Kukasheka also likened the Boko Haram leaders to a man who was on the way to be drowned. The spokesman of ISIL, Abu Mohammad al-Adnani welcomed the pledge on March 12 even as he acknowledged the prospect that the Caliphate was now growing to Western Africa as well.
US response and present scenario
The U.S. termed Ansaru and Boko Haram as terrorist organizations in 2013 itself. It has cited a number of reasons for this designation such as the group's connections with Al-Qaeda and its murder of thousands of people in central and northeastern Nigeria in the last few years. It has further said that the designation should be read as a tool that will enable the national government in Nigeria to deal with the group through a combination of law enforcement, developmental, and political efforts. As of 2014, the U.S. is of the opinion that Boko Haram is no longer related to Al-Qaeda.
This belief stands in spite of the Boko Haram always offering its support for the central unit of the globally-dreaded terror group. It is concerned, though, about the relation shared by Al Qaeda in the Islamic Maghreb unit and Boko Haram. Both the terror groups associate in areas such as funds, explosives, and training.
The U.S. had tried to help Nigerian Government in rescuing the kidnapped schoolgirls of Chibok. However, the mission was botched because both the parties could not trust each other. There was some information that there were members of Boko Haram in the Nigerian military and this meant that the U.S. could not trust them with sensitive data pertaining to intelligence. The Nigerian military was also unable to provide the necessary information that may have enabled the U.S. drones to locate the kidnapped girls. According to the Nigerian government, Boko Haram is the West African wing of the global movement of Al-Qaeda. It reportedly also has connections in countries such as Mali and Somalia.