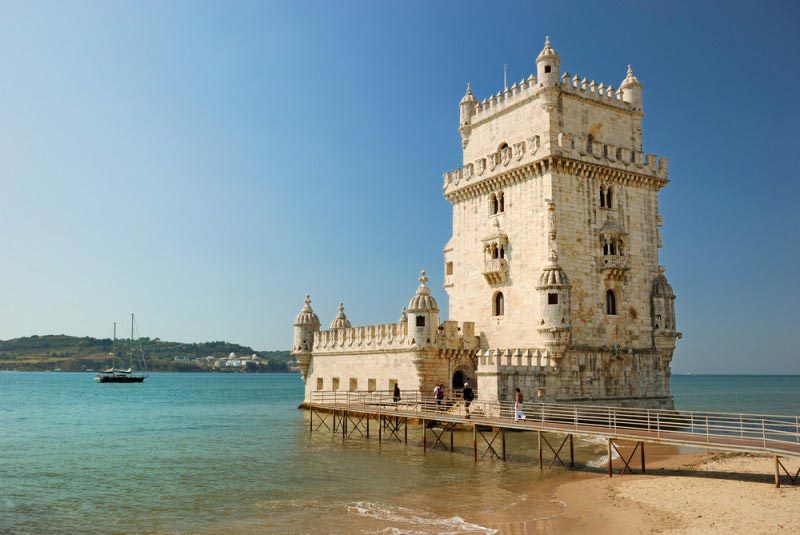 Belem tower at Lisbon, Portugal
Portugal is located in the southwest region of Europe and shares its border with Spain. It is also bordered by the Atlantic Ocean. Portugal is a European Union nation since 1986. Demography was introduced in Portugal in the year 1974 and was one of the principal reasons for the country's progress from poverty to prosperity. Portugal is divided into 18 districts, but the procedure of classifying country regions in terms of districts could be phased out. Portugal has green mountains, Rocky Mountains, amazing diversity of landscapes, waterfalls, etc., for its tourists. Most of the tourists in Portugal are seen between June and September. Easter is a major event in Portugal. Portuguese is the official language of Portugal.
British Airways, Air France, and Lufthansa have direct flights to Portugal. Lisbon, Faro, and Porto are the major international airports of Portugal. Intra-country traveling is cheap and convenient, if you use the highly efficient and well-developed railway network of Portugal. Traveling by train will be frequently cheaper than by bus. Try to avoid driving when you are in Portugal, a country infamous for reckless driving.
Some of the tourist attractions in Portugal:
St. George's Castle, Lisbon
Oceanarium, Lisbon
Gulbenkian Museum, Lisbon
The Island of Madeira
Sacred Art Museum, Funchal
Botanical Gardens Madeira, Funchal
Bahia Beach Bar, Lagos
Portugal Travel Map
Getting In
The people can easily connect with this country as it has a good connectivity with an efficient transportation network. Though it was considered one of the poorest countries in the world, it maintains a wide link to almost all the parts of the world. The tourists can expect to get into this country with various modes of transports including, flights, trains, buses, cars, and sometimes boats. Not only with the European countries, but the country has a frequent connection with other continents. People from almost every corner of the world have all the convenience to visit this wonderland. The country, which is well known for its rocky mountains, waterfalls, beaches, and near-desert landscapes, takes full care to see whether everyone is having the access to this country.
The country has a good number of airports like Portela Airport (Lisbon International Airport), Francisco Sá Carneiro Airport, Évora Airport, Faro Airport, etc., which receive a large number of International Airlines. The tourists can opt from the following airlines like Aer Lingus (Dublin), Air Berlin (Palma de Mallorca), Air France (Paris-Charles de Gaulle), British Airways (London-Heathrow), Brussels Airlines (Brussels), Egyptair (Cairo), Finnair (Helsinki), Germanwings (Cologne/Bonn, Stuttgart) Lufthansa (Frankfurt, Munich), Monarch Airlines (London-Gatwick), Scandinavian Airlines System(Oslo), Swiss International Air Lines (Zürich), TAP Portugal (Madrid, Munich, Oslo, Paris-Charles de Gaulle, Prague, Rio de Salvador, Stockholm-Arlanda,Venice, Zagreb, Zürich) Tunisair (Tunis), US Airways (Philadelphia), etc. Reaching Portugal is a bit difficult for the visitors residing in most of the African and Asian countries.
Apart from flights you may also choose to arrive in Portugal via car, especially, from the neighboring countries like England and Spain. Owing to a good number of modern roads and Highways, the tourists from England and Spain can easily enter the country via Plymouth-Santander or Portsmouth-Bilbao in Northern Spain. The capital city of Lisbon is a well-connected network of railway to Madrid and San Sebastian in Spain. Bus services like ALSA and Auto Res connect the major cities of Spain with the cities of Lisbon, Oporto, and the Algarve, in Portugal. Though boats are available for a limited number of tourists, it is preferable to avoid taking a ride to this transport service, as it is often prone to get disrupted.
Transport
Portugal, an exquisitely beautiful country, has its attractions scattered throughout the country. The tourists will surely get a lot of options to choose. The visitors may choose to travel in Portugal via plane, rail, metro, bus, car, and tram. As it is not a big country, it spares the tourist from the hassle of long traveling from one part of the country to another. The major cities of the country like Lisbon, Guimarães, Évora, Faro, Porto (Oporto), Coimbra, Cascais, Portimao, Lagos, Viseu, etc., are well connected by most of the modes of transport available in the country.
A large number of domestic flights operate in the major parts of the country. The major number of domestic flights of TAP Portugal fly between Lisbon, Porto, Faro, Madeira, and the Azores, and also between Madeira and Porto Santo. SATA has regular flights between all the islands of the Azores and from the Azores to Madeira and mainland Portugal. ATA also connects various major cities of Portugal. The country is backed by a good railway network. The tourists get a guaranteed swift and cheap journey across the country. CP – Caminhos de Ferro Portugueses, the Portuguese railway company, offers an extensive rail network covering the whole country. The tourists can opt to take a ride on Alfa pendular trains, which offer the fastest and most comfortable rail link between Lisbon and the Algarve, Porto, Braga, or Guimarães. The Intercidades or Intercity service covers the Lisbon-Porto-Braga, Lisbon-Guarda, Lisbon-Covilhã, Lisbon-Alentejo, and Lisbon-Algarve routes. These trains are quite cheap as they run on the subsidy given by the government.
Metro Railway is clean, developed, and air-conditioned. This underground railway system saves the congestion in the cities of Lisbon and Porto. These metro rails are quite efficient and fast. Owing to a large number of good roads, it becomes tempting for the travelers to rent cars and move around the country. Trams are a very delicate mode of transport and have a limited range within the city of Lisbon. The tourists will find that Companhia de Carris de Ferro de Lisboa is the one and only monopoly tram company of Portugal. The tram network is there in the city of Porto as well. Buses are available, but in limited number. Taxis made in traditional Portuguese style are another choice of traveling within the country. They are generally found all over the country, and provide the convenience of reaching you at any of your favored destination.
Leisure
This country in Southern Europe is bestowed with some beautiful countryside places, vibrant cities, and other landscape diversities. It has everything to thrill the visitors. The tourists will be enchanted to see the luxurious mountain ranges and glamorous near-desert landscape. The warm and comfortable climate, adding to some scintillating sceneries, make it a hunting ground for the tourists. Some of the major regions like Minho, Madeira Islands, Azores Islands, Alentejo, Algarve, etc., are worth visiting.
Lisbon, the capital city of Portugal, is gifted with some ancient architecture, which includes, St Jorge's Castle, Belem Tower, Santa Justa's Elevator, Belem Tower, etc., along with Museums, Zoos, and historical districts. The visitors must visit the Roman ruins in the city of Evora. Faro, the most sought after destination for its reputation of having some well-dressed beaches and the city far away from the humdrum of daily life, is a place where the visitors can expect ultimate peace of mind. Porto, the second largest city of Portugal after Lisbon, also shelters some notable places of attractions. This hilly city has both medieval and modern architecture. The tourists can have a great time spending in multipurpose pavilions with nice gardens. The city also has a huge collection of shopping complex, which sells some quality handicrafts. Make it mandatory to visit the bookshop of Livraria Lello and the art museum of Soares dos Reis.
Portugal does have some garnished spots, which will make you repent if you don't visit. The cape of Cabo da Roca, lying on the western coast of Portugal is a bliss in disguise. The country has an active night life, especially in the cities of Setubal, Lisbon, Porto, and the Algarve. If you wish to observe wildlife in its natural state, Madeira and Azores Islands are places to remember. One thing that the tourists can have to their fill is playing Golf. The perfect climate along with a lot of investments in the golfing infrastructure in recent years, has turned the country into an ideal place for golfing. If you are willing to indulge in activities, you can enjoy surfing, kite-surfing, and aerobics. This country is also an ideal place to go cycling through the mountainous terrains and go for water rafting. If possible, be in Portugal during some of the best festivals like International Film Festivals, Festas dos Santos Populares (Festivals of Popular Saints), Festival do Marisco (Festival of Shellfish) in Algarve, etc. This less expensive country of Europe provides you entertainment at an affordable rate. Some other cities like Coimbra, has a wide range of attractive places like Old Cathedral, Mondego river, Botanical Garden, Saint Cross Church, etc. If you are planning to visit Portugal, visiting some of the cities like, Albufeira, Funchal, Viseu, Lagos, Portimao, will be a nice experience.
Related : Portugal Facts | Portugal Location Map | Portugal Airports