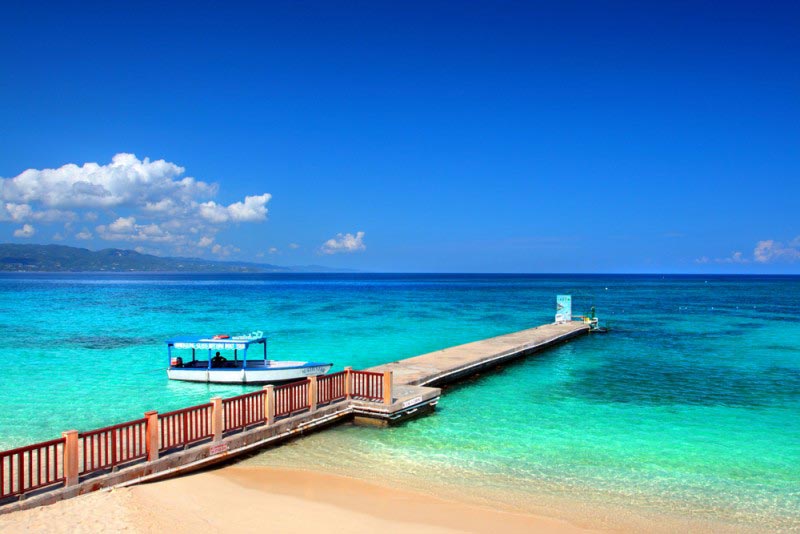 Doctor's Cave Beach Club at Montego Bay, Jamaica
Jamaica is one of the bigger islands in the Caribbean. The bustling city of Kingston is the capital of Jamaica. It is situated on the South coast of the island and is the hub of classy business hotels, fantastic shopping arcades, and superb entertainment and dining destinations. The beautiful country of Jamaica enjoys the opulence of magnificent historical sites, spectacular 19th century churches, majestic forts, and fantastic museums. All these fascinating destinations allure the travelers from all corners of the world to visit Jamaica and explore its plethora of attractions.
The best part of vacationing in Jamaica is that you can visit this country throughout the year as the climate is always suitable for outdoor recreations and be it the mild winters or hot summers, you can relish a nice weather and enjoy a grand time traveling around the various sightseeing destinations of Jamaica.
Most of the areas of tourist attractions are on the northwest of the island due to more fascinating beaches and Montego Bay is the most popular beach in Jamaica. Negril, Kingston, Port Antonio, Spanish town, May Pen, Falmouth, Blue Mountains, St. Ann's Bay, Lucea, Cockpit country, and Ocho Rios are most interesting sightseeing destinations in Jamaica.
Jamaica Location Map

Getting In
Holidays in Jamaica are a memorable experience and the best part is that reaching Jamaica is also very convenient. You may choose to travel by air, land or by sea to reach here.
Most of the international tourists reach Jamaica by flying to the Montego Bay's Donald Sangster International Airport or the Norman Manley International Airport in Kingston. You can also reach Jamaica in cruise ship from the neighboring islands. You would also find smaller airports in Negril and Ocho Rios and one in Kingston, where you can reach by private aircraft. Journey from London to Kingston or Montego Bay takes 10 hours, and from New York it takes 3 hours 40 minutes to reach Jamaica.
Jamaica is well connected by rail route and there is about 250 route miles of railroad, of which 77 is functional at present and can handle privately operated bauxite (aluminum ore) trains. Though the passenger services stopped operations in 1992, the Jamaican government is thinking of the possibility of starting the services again.
The condition of the roads in Jamaica is not quite good and here you will find most of them over-congested. Further, some of the roads may include treks on mountain roads which are not suited to many travelers, as it may cause nausea, etc. You need to carry some medicines like when you are traveling to Jamaica via these roads. Thus, alert and skillful driving is required. Here left side driving is done and there are very few stoplights in important city centers, such as Montego Bay, Kingston, and Ocho Rios. You can also rent a car through a car rental company, such as Hertz or Avis.
You may choose to reach Jamaica by boat as well, provided the service provider is a hotel or tourism company. The main ports of Montego Bay and Ocho Rios are where a number of cruise lines anchor. The passenger and freight lines arrive from North, South, and Central American ports.
Transport
You can visit various destinations by air in Jamaica. The Air Jamaica Express operates from Montego Bay and Kingston to other places in the island countries which have landing fields. The Air Negril schedules daily flights from Montego Bay to Negril.
Transportation in Jamaica by bus is quite affordable option and there are much cheaper than the tourist taxis. Many resorts organize excursions by bus like there is one excursion by bus from Ocho Rios to Kingston and Blue mountain.
Taxi is a cheaper mode of travel in Jamaica. You will find the taxis are mostly full of people. The best option is to take the licensed taxis, which usually have the taxi signs on their sides. There is the largest taxi service in Jamaica , JUTA which you can avail of. Or you can choose any taxi with red Public Passenger Vehicle (PPV) plates.
If you want to tour various regions, then only one mode of transportation in Jamaica will suit you, that is renting a car. The Island Car Rental has earned much repute. You can tour the spectacular countryside and car rental for one week may be US $400-800, including compulsory insurance coverage. You must be careful as roads may not be in their excellent conditions, or you may have to drive through winding roads as well.
Leisure
If you are fun seeking and have a streak of adventure in you, then Jamaica beckons you with exciting holiday options. You will find a wide range of activities ranging from rugged outdoor adventures to exhilarating nightlife in Jamaica. In fact, sometimes on this island, it becomes quite difficult to choose what to try for and what not.
One of the Famous options for entertainment is the Championship Golf M, which can be enjoyed at the six 18-hole championship golf courses viz., the Tryall Golf, Tennis, and Beach Club, Cinnamon Hills Golf Club, Half Moon Bay Golf Club, Wyndham Rose Hall Club, Superclubs Ironshore Club, and the White Witch Golf Club.
Indulge in exciting scuba diving in the protected waters of the Montego Bay Marine Park, where you will find stunning 10 square miles of coral reefs located away from the coast from the Sangster International Airport. You can also go for some angling tours and there are fishing charters which are extremely popular along with yachting. The Montego Bay Yacht Club hosts the bi-annual Pineapple Cup Miami to Montego Bay Yacht race.
Go for a shopping spree on the Harbour Street, with a bustling Crafts Market. Here you can buy art pieces made of straw, batik and woodcarvings. You may shop at duty-free outlets, where you can find Scottish cashmere, perfume, and cigars to liquor, china and crystal. Don't miss Gloucester Avenue's "Hip Strip, where you have restaurants, art galleries, and duty-free shopping.
If you want to spend time sipping an exotic cocktail, then Jamaica's bars not only offers refreshing tropical drinks, but you get here more conventional beverages as well. Or visit the Little Pub where live music along with Red Stripe Beer, and delectable cuisines sets the mood. The entertainment and leisure in Jamaica are abounding, and here you will also find discotheques to shake your legs. Hit The Cave Disco in Montego Bay or the Acropolis in Ocho Rios, which are the hot favorites. There are also live music venues in Jamaica like Toby Inn, The Cave Disco, The Scarlet Keg on Pier 1, Sir Winston's, and Acropolis, where you can enjoy reggae concerts.
Related : Jamaica Location Map | Jamaica Facts