Chinese cuisine is famous through the world.You will hardly find a city that does not have any Chinese restaurants. Local Chinese cuisine can be divided into different styles like Sichuan, Cantonese, Anhui, Shandong, Jiangsu, Fujian, Hunan, Zhejiang. Rice, specifically the sticky variety is a staple and used with many dishes, other common dishes include Noodles of various types, Tofu, Vegetables like bok-choy, broccoli, bean sprouts, celery, mustard greens etc. Chicken, duck, pork, fish and other meats are also commonly used. A lot of dishes include strong aromatic sauces while some are slightly mild. Few weeks back we saw the Honey Walnut Shrimps Recipe, while today we are preparing a chicken recipe with a much stronger aroma.
Sesame Chicken is made with deep fried chicken combined with a sauce made with soy sauce, wine vinegar and honey in a sesame oil base. Sesame seeds are sprinkled for a crunchy texture and taste. These ingredients give it a stronger aroma and the dish goes well with rice. It is pretty easy to make and works well as a main dish. Just go ahead prepare this Sesame Chicken recipe and savor a new taste today.
Ingredients (serves 4)
Chicken breast - 1 pound (cut in cubes)
Corn flour - 2 tbsp
All purpose flour - 2 tbsp
Salt - 1/2 tsp
Baking soda - 1 pinch
Oil for frying
For Sauce
Sesame oil - 2 tbsp
Ginger - 1 tsp (chopped)
Garlic - 1 tsp (chopped/ crushed)
Chili paste - 3 tbsp
Wine vinegar - 2 tbsp
Soy sauce - 1 tbsp
Black pepper powder - 1/4 tsp
Salt to taste
Honey - 1 tbsp
Sesame seeds - 1 tbsp
For Chilli paste
Soak 10-12 chillies in hot water for an hour. Grind in a blender to make a paste. Or you can buy it off the shelf at a supermarket.
How to Make Sesame Chicken
Mix together corn flour, all purpose flour, salt and baking soda.
Coat the chicken cubes with the mixture on all sides.
Heat oil in a pan and deep fry the chicken cubes until golden brown.
Keep the fried cubes aside on a kitchen tissue so that the extra grease is absorbed
Heat sesame oil in a pan, Add the chopped ginger and garlic and fry for a minute.
Add chili paste, wine vinegar, soy sauce, black pepper powder, salt and honey to make the sauce.
Add fried chicken and mix well.
Sprinkle sesame seeds all over.
Summary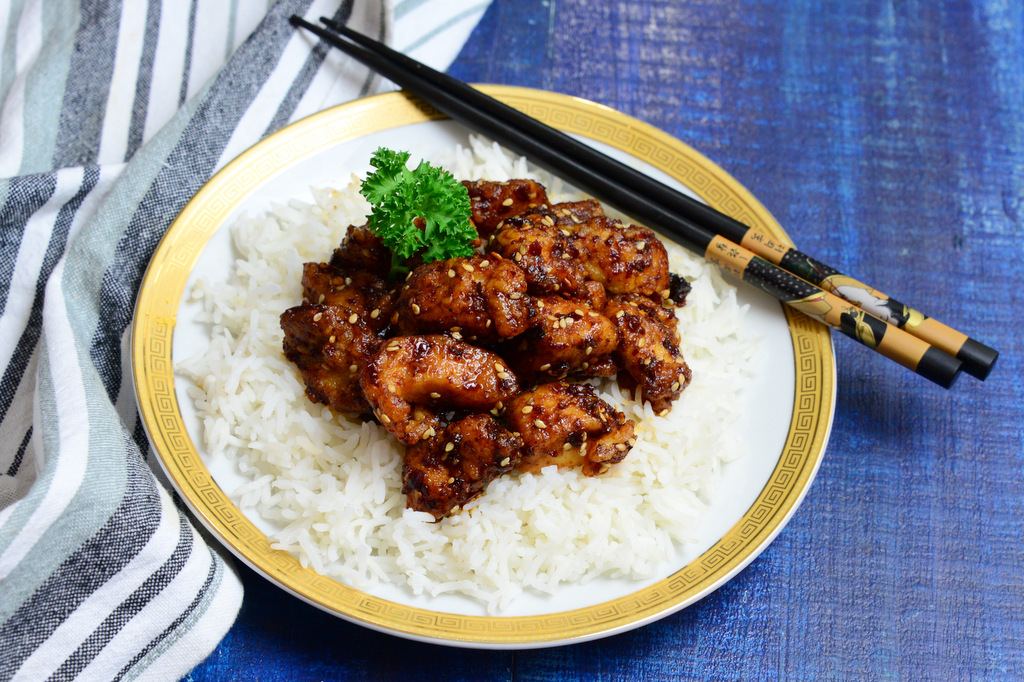 Recipe Name
Published On
Preparation Time
Cook Time
Total Time
Average Rating
Based on 2 Review(s)
Published On:
Tuesday, December 9th, 2014