Chinese cuisine is truly varied, besides a number of local traditions in one of the largest countries, it has spread all over the world adopting to local styles. Within China, the traditions of cooking include hot and spicy Hunan, garlic and spice rich Szechuan, steamed or stewed Cantonese, soup curry like Fujian, more vegetarian Anhui and others like Jiangsu, Shangdong and Zhejiang. Chinese restaurants can be found over the world serving authentic and local delicacies. Chinese people use staples like noodles, rice, wheat, soya along with vegetables, sea-food, chicken, pork and beef in the various preparations. Usage of herbs and spices is also very common. The meats, sea food and vegetables are served in different kinds of sweet or sour or spicy sauces, curries and soups with other additives and accompaniments.
For a Chinese taste this time I made Honey Walnut Shrimps, the name actually gives out the ingredients. This dish is made slightly sweet with additives like cornflour, egg, condensed milk, sugar syrup etc. It looks beautiful served over a bed of lettuce leaves and can be served as a side with noodles or rice. They sugar syrup mixed with walnuts caramelizes to give a great sweet taste along with honey while the shrimps are deep fried wrapped in cornflour and egg mixture. You would love the distinct taste of this Chinese dish. Use this Honey Walnut Shrimp Recipe and make it easily any day you want.
Ingredients (serves 2 to 3)
Shrimps - 250 gms (cleaned)
Egg - 1 (beaten)
Cornflour - 4 tbsp
Oil for frying
Sugar - 1/4 cup
Water - 1/4 cup
Walnuts - 1/4 cup
Mayonnaise - 2 tbsp
Condensed milk - 1 & 1/2 tbsp
Lemon juice - 1 & 1/2 tbsp
Honey - 2 tsp
Lettuce leaves to form the bed
How to Make Honey Walnut Shrimps
Coat the shrimps individually with beaten egg and cornflour.
Heat oil in a pan and deep fry the shrimps for 2-3 min.
Drain the oil and keep the shrimps separate.
Mix sugar with water and boil.
Once the water comes to a boil add the walnuts and stir occasionally until the sugar caramelizes.
Remove on a plate and let it cool.
Mix mayonnaise, condensed milk, lemon juice and honey to form a smooth sauce.
In a serving bowl, line the lettuce leaves, place the shrimps and walnuts and pour the sauce all over.
Serve hot.
Summary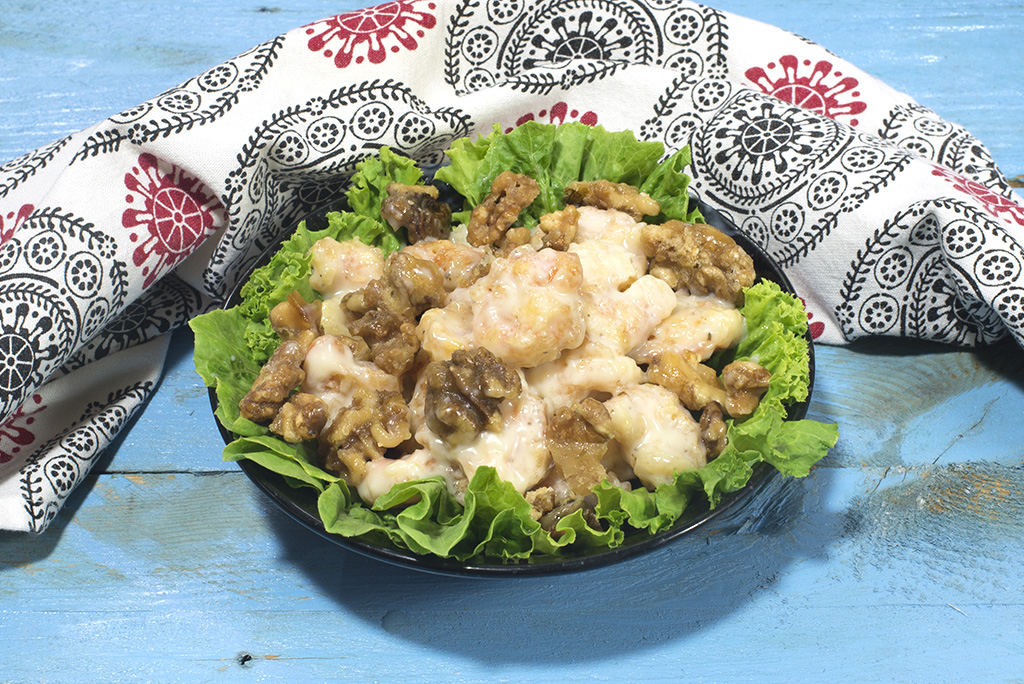 Recipe Name
Honey Walnut Shrimps Recipe
Published On
Preparation Time
Cook Time
Total Time
Published On:
Sunday, June 29th, 2014