Middle Eastern cuisine is known the world over and is one of the attractions for tourists visiting these countries. Many different spices and herbs are used in the typical preparations which are served in traditional styles. Wheat, rice and barley are used extensively in preparation of breads and other food items while the specialty spices such as sumac and za'tar impart a nice flavor to the dishes. Fried and grilled meats are consumed with breads or separately in different countries of the Middle East. Some of the commonly known dishes from this region are Pita Bread & Hummus, Muttabal, Shawarma, Falafel, Kebab, Kibbeh and sausages. I have already written on how to prepare a few of these dishes in my earlier posts. Today I picked up yet another one of these famous recipes.
Kibbeh also spelled in different ways, such as Kebbah or Kibbe is made as a shell with filling inside. It is popularly eaten in all Middle Eastern Countries like Jordan and Turkey. The shell is prepared with broken wheat (bulgur) mixed with minced meat, herbs and spices, while the filling is cooked with onion, garlic and minced meat. The preparation can be deep fried or baked, although the traditional varieties are mostly fried. Kibbeh is usually made into oval shapes, but you can also make it into balls. I just loved the taste of the final preparation. It was so heavy that it actually formed my whole meal. Well, I'm sure you too would love to have this Middle Eastern delicacy on your table, so here is the Kibbeh Recipe for you.
Ingredients (serves 4)
For Outer Covering (Shell)
Onion - 1/2 cup (chopped)
Minced meat - 300 gms
Salt to taste
Cumin powder - 1/2 tsp
Pepper powder - 1/2 tsp
Red chili powder - 1/2 tsp
Sumac - 1/2 tsp
Parsley - 1/2 cup
Bulgur - 3/4 cup
For Filling
Oil - 1 tbsp
Onion - 1/2 cup (chopped)
Garlic - 5 to 6 cloves (chopped)
Minced meat - 200 gms
Salt to taste
Pine nuts - 1/4 cup (chopped)
Parsley - 1/4 cup (chopped)
Pepper powder - 1/2 tsp
Sumac - 1/2 tsp
Za'tar - 1/2 tsp
How to Make Kibbeh
Soak bulgur in warm water for 30 minutes.
Squeeze the bulgur to remove excess water
Mix bulgur, minced meat, onion, minced mutton, salt, cumin powder, pepper powder, red chili powder, sumac and parsley and blend to make a smooth paste. Keep aside
Heat oil in a pan, add onion, garlic an fry for 3 to 4 minutes.
Add all other filling ingredients and cook for about 8 to 10 minutes.
Let the filling cool.
Dampen your hands with water.
Take a lemon sized ball of the outer covering paste, press in the middle to make a cavity.
Fill with 1 tsp of filling and seal the ends nicely. Repeat until you use all the ingredients.
Heat oil for deep frying in a pan.
Deep fry the Kibbeh until brown all over.
Drain on a kitchen tissue.
Serve hot.
Summary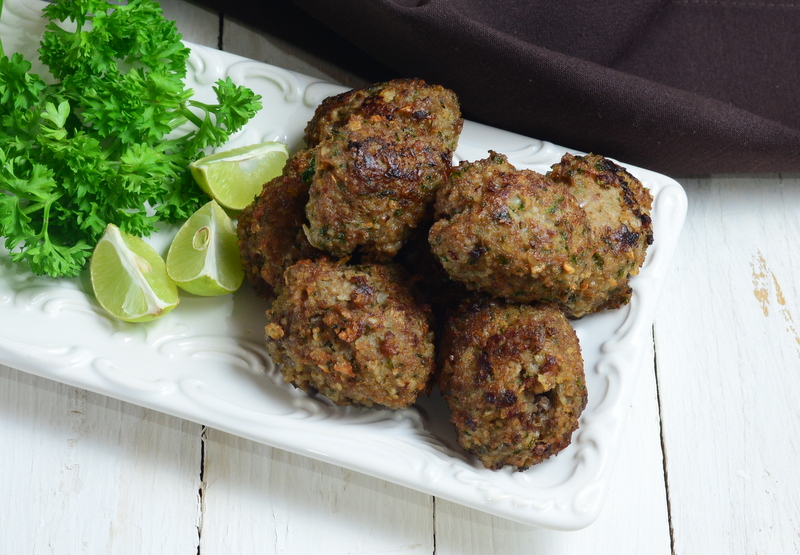 Recipe Name
Published On
Preparation Time
Cook Time
Total Time
Average Rating
Based on 5 Review(s)
Published On:
Monday, September 22nd, 2014