Greece is another of the Mediterranean country and has been a big part of history. Greek cuisine dates back to more than 4000 years and has been a center point of exchange with other cuisines. The historians in fact point to the first cookery book being written in Greece. Though the modern day Greece lies in the European region, it has vastly influenced the Mediterranean and Middle Eastern cuisine. The cuisine is characterized by the usage of grains, herbs, vegetables and olive oil in the preparations which has continued since the times of Roman and Ottoman empires.
Greek cuisine has provided the world with wide range of recipes including breads, salads, main courses and desserts. Typical breads made in the country are Pita and Lagana. Greek Salad is available in most salad bars around the world made with tomatoes, red onions, cucumbers, feta cheese with an olive oil dressing. Another of the Greek main course which is typically available throughout Europe and Middle East is Gyros in which meat is rotated vertically while being cooked slowly and served rolled in pita bread with vegetables and sauce. Baklava is also another famous dessert from the region made with phyllo pastry layers and filled with honey. Some of the dips used in the cuisine are hummus and tahini, these are served as accompaniments with many meals.
As Pita, Hummus & Tahini are used in different ways in the cuisine, I decided to make them as a sampler. Pita is a soft and hollow bread made with wheat flour in varying round and oval sizes based on its usage. It is used to serve main course like gyros and falafel and comes out really tasty. Pita bread is also used to eat the dips like hummus and baba ghanoush. Hummus on the other hand is a dip made with chickpeas (which is what the word hummus means in Arabic). Other ingredients such as garlic, lemon juice are added and the dip is served with drizzled olive oil. Hummus can also be sometimes blended together with Tahini which is another dip made with sesame seeds. Tahini dip also forms a top up ingredient to many other dishes in the Middle East. It has been served with Armenian Lahmacun while in Greece it is used to top up breakfast breads.
You can make either or all of Pita, Hummus & Tahini at home, serve them as such for dipping pita with the two. You could also use them further to make other food courses or serve as accompaniment. This Pita, Hummus & Tahini Recipe takes you through the step by step process of making this Greek sampler. Use it and enjoy the taste.
Ingredients
Pita Bread
All purpose flour - 2 & 1/2 cup
Whole wheat flour - 1/2 cup
Salt - 1 tsp
Warm water - 1 cup
Milk - 1/4 cup
Yeast - 1 & 1/2 tsp
Olive oil - 1 tbsp
Sugar - 1 tsp
Hummus dip
Chickpeas - 2 cup
Garlic cloves - 8 to 10
Olive oil - 2 tbsp
Tahini - 2 tbsp
Lemon juice - 2 tbsp
Cumin powder - 1/2 tsp
Chili flakes - 1 tsp to garnish
Olive oil to drizzle
Tahini dip
Sesame seeds - 1/4 cup
Sesame oil - 1 tbsp
Salt to taste
Garlic cloves - 5 to 6
Lemon juice - 1 tbsp
Pita, Hummus & Tahini Recipe
Pita Bread
Mix sugar and yeast in warm water and keep for 10 min.
In a separate bowl, mix all-purpose flour, wheat flour and salt. Add all remaining ingredients including sugar and yeast water and knead a soft dough.
Cover and keep for about an hour.
Pre-heat the oven to 250 C.
Make small lemon sized balls, roll them into thin discs.
Bake for about 1-2 min until they puff, turn around and bake again for 1-2 min.
Hummus dip
Soak the chickpeas overnight.
Boil them in a pressure pan for 10 min.
Mix all ingredients and blend it with little water to a smooth paste.
Drizzle with olive oil and garnish with chili flakes.
Tahini dip
Mix all ingredients and blend them into a smooth paste using little water.
Serve Pita bread with Hummus and Tahini dips.
Summary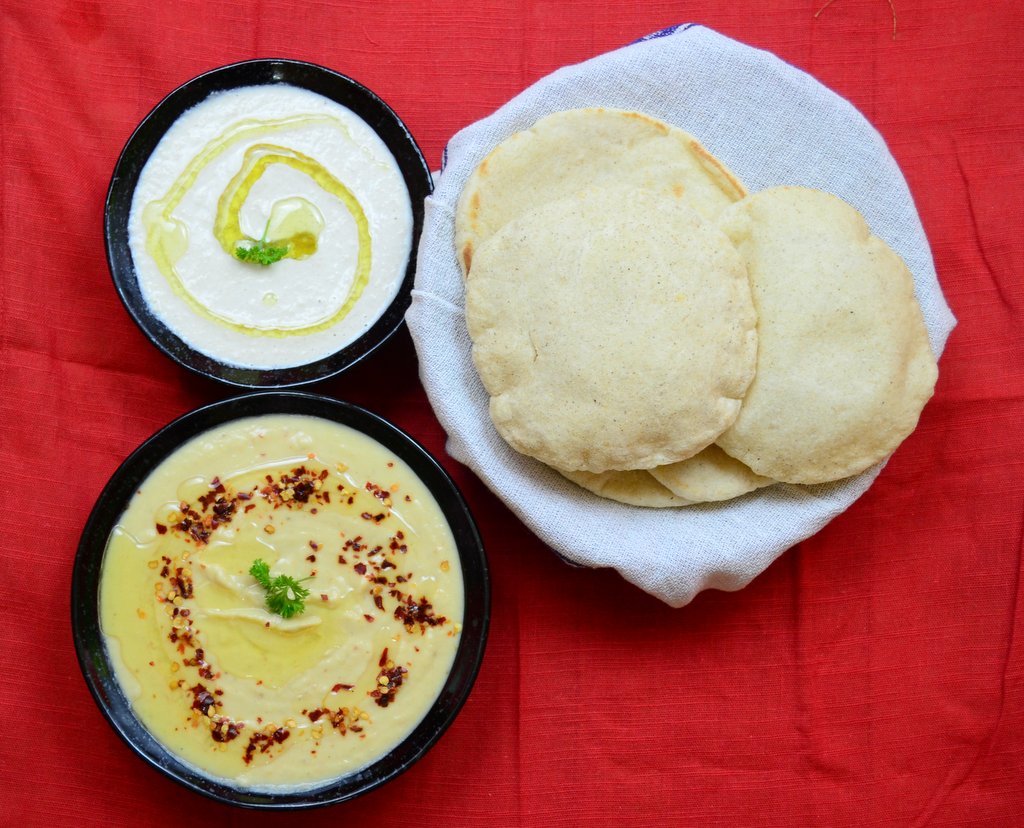 Recipe Name
Published On
Preparation Time
Cook Time
Total Time
Average Rating
Based on 4 Review(s)
Published On:
Sunday, March 16th, 2014