Mexican cuisine has been influenced a lot by the Spanish, however it still maintained a lot of originality leading to the modern day cuisine. The usage of local ingredients such as avacados, tomatoes, corn, herbs and chilies is common in many dishes which are known all over the world. All over Mexico and into the mainland of US, it is easy to find street shops and fast food joints serving tacos, quesadillas, burritos, tortas & tamales etc. Other known dishes from Mexico include Carnitas, Chalupa, Chimichangas, Chorizo, Enchilada, various Mole (dips), Pollo Asado, Pollo Picado, Tostadas etc. Last time we made a Mexican dish in this section we saw Burrito Recipe, today I made something different and something which tastes best when served hot. I made Enchilada with chicken filing. Enchiladas are made with tortillas rolled with different filling which can be made with chicken, beef or pork or even vegetables like potatoes along with onion, black beans, corn etc. These are then baked with tomato based gravy topped with cheese. They are pretty heavy and go well in the main meals. I just loved the taste as the baking induces the flavors from tomato gravy into the rolled tortillas. Enchiladas can be made easily with this recipe, so enjoy a Mexican taste today.
Ingredients
Tortilla's - 4
Cheddar cheese - 1/2 cup (grated)
Black beans - 1/2 cup
For Enchilada Sauce
Oil - 1/4 cup
All purpose flour - 3 tbsp
Chopped tomatoes - 2 cups
Red chili powder - 2 tbsp
Garlic powder - 1 tsp
Dry oregano - 1 tsp
Salt to taste
Black pepper powder - 1 tsp
For Filling
Chicken breast - 1
Olive oil - 2 tbsp
Onion - 1/2 cup (chopped)
Garlic - 5 to 6 cloves (chopped)
Corn - 1/4 cup
Salt to taste
Black pepper powder - 1/4 tsp
How to Make Enchilada
For Enchilada Sauce
Heat oil in a pan, add all purpose flour and fry for 30 seconds.
Add tomatoes with 2 cup water along with red chili powder, garlic powder, dry oregano, salt and black pepper powder.
Cook for about 15 minutes till it thickens.
Keep the Enchilada Sauce aside.
For the Enchilada Filling
Heat olive oil in a pan, and cook chicken breast for about 3 to 4 minutes on each side.
Let it cool and shred it into small pieces.
In the same pan, fry onions, garlic for about 2 minutes.
Add corn and shredded chicken and cook for about 2 to 3 minutes.
Keep Enchilada filling aside.
For Enchilada
Pre-heat the oven to 350F.
Take each tortilla, spread about 2 tbsp sauce evenly.
Line it with 2 tbsp black beans.
Top it with Enchilada filling and grated cheddar cheese.
Roll the tortilla and arrange them in a baking cum serving pan.
Top the tortilla lining with about 4 tbsp sauce and sprinkle the remaining cheese on the top.
Bake for about 20 minutes.
Serve hot.
Summary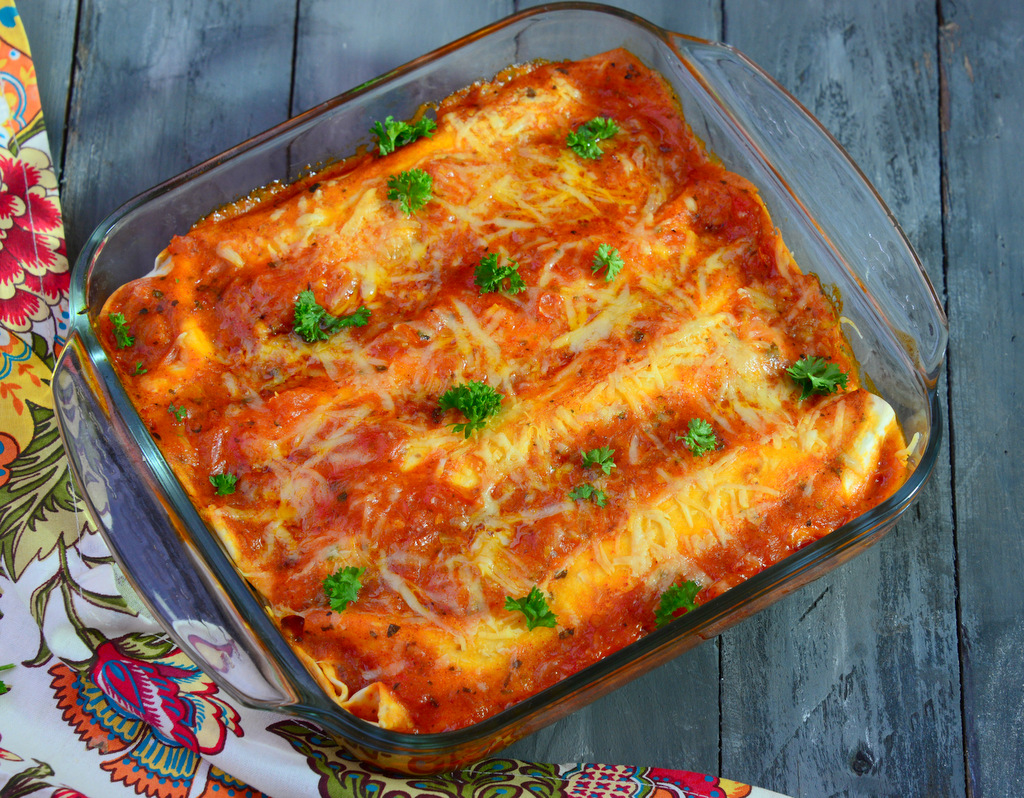 Recipe Name
Published On
Preparation Time
Cook Time
Total Time
Average Rating
Based on 1 Review(s)
Published On:
Sunday, January 4th, 2015