Mexico has played a fair part in the history of civilizations. In the pre Columbian era, it was home to famous Aztec and Mayan civilizations, the regional staple food grains such as beans, chilies, squash, sweet potato, corn, avocado have been continued for centuries while the Spanish colonization introduced meats, cheese, spices and herbs. The modern day cuisine is a mixture of traditional cuisine, the influence from the Caribbean region and the European influence under the Spanish rule. Mexico is thirteenth largest country in the world and fifth in the Americas. With this large region, the usage of grains and spices also varies across the country, while the north is more famous for the use of meats, the south uses a lot more spices.
Mexico has had great influence on the world food map with the restaurants available all through, specially in North America. Some of the very well known Mexican recipes include burritos, nachos, fajitas, tacos, enchiladas, quesadillas, tamales etc. There are also some native dishes which have not been internationalized much, but used in the native cuisine, some of these dishes include machaca, puebla and cochinita pibil. The Mexican dishes are generally served with differently spiced sauces known as mole and others like sour cream, guacamole and variety of salsa.
Today I picked up one of the most internationally known dishes from Mexico, Burritos. Since I've been introduced to these quite a number of years back, I definitely order one whenever I go to a Mexican restaurant. Burritos could be made vegetarian or non-vegetarian depending on the filling. The various meats that can be filled include chicken, lamb and beef, I went with chicken. There is also a choice to fill in brown or white rice, I however like a lemon flavored white rice along with regulars such as black beans, lettuce, onions, tomatoes, sour cream etc. Burritos can go well in any of the meals or even pieced for snacks, you could serve them with some soda. It is also not too hard to make it at your home once to have the spices and ingredients. So just go ahead and use this Burrito Recipe and have a great Mexican taste in your meals.
Ingredients (serves 4)
Flour Tortilla - 4
For Rice
Rice - 1 cup
Water - 2 cups
Lemon juice - 3 tbsp
For Beans
Black or red kidney beans - 1 cup
Salt to taste
For Grilled Chicken
Chicken breast - 1
Oil - 2 tbsp
Salt to taste
Black pepper powder - 1/4 tsp
For Salsa
Tomato - 1 cup (finely chopped)
Onion - 1/2 cup (finely chopped)
Lemon juice - 2 tbsp
Salt to taste
Fresh coriander - 1 tbsp (finely chopped)
Green chili - 1 or 2 (finely chopped)
For Vegetable Filling
Onion - 1 sliced
Capsicum - 1 sliced
Oil - 1 tsp
Other Filling
Lettuce leaves - 1 cup (shredded)
Sour cream - 1/2 cup
How to Make Burrito
For Rice
Mix rice with water and lemon juice and cook till done.
For Beans
Soak the beans overnight.
Boil with 2 cup of water and salt until dry.
For Grilled Chicken
Brush the oil on a grill pan.
Grill the chicken bread with a sprinkle of salt and pepper until golden brown.
Shred into small pieces.
For Salsa
Mix tomatoes, onions, green chili, coriander, salt and lemon juice.
For Vegetable Filling
Brush oil in a grill pan and saute onions and capsicum till light brown.
For Assembly
Heat a griddle and cook tortilla's from both sides for a minute each.
Depending on the size of your tortilla, you need to make sure the filling is about half the size so it can be folded easily.
Spread the tortilla on a working table, spread 1 to 2 tbsp rice, 1 to 2 tbsp beans.
Top with shredded chicken, salsa, vegetable filling, lettuce and sour cream.
Bring the bottom and top flaps together to arrange the filling.
Fold the right and left flaps over the filling and roll the tortilla carefully to make a roll.
Serve fresh.
Summary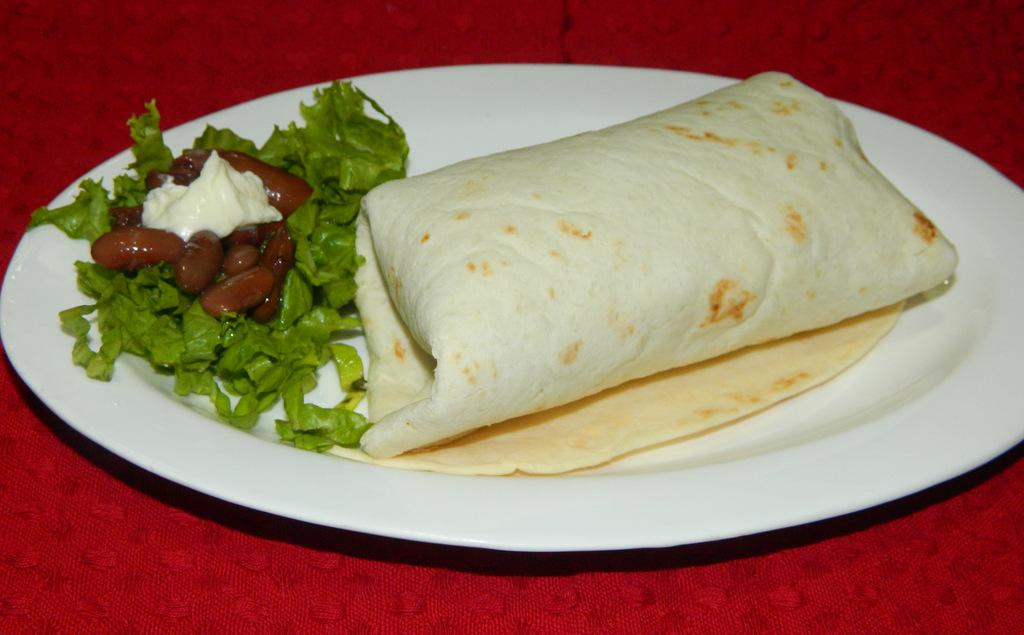 Recipe Name
Published On
Preparation Time
Cook Time
Total Time
Average Rating
Based on 5 Review(s)
Published On:
Sunday, April 27th, 2014