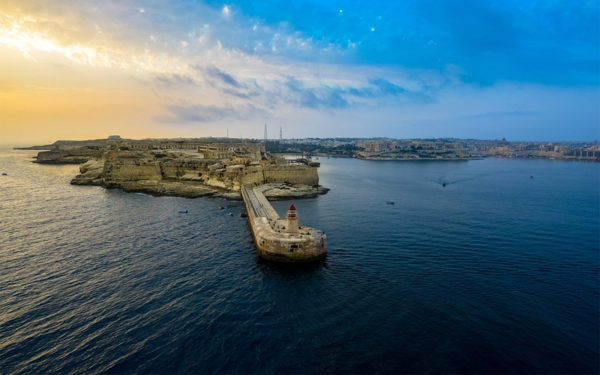 Malta is a small island nation comprising a group of seven islands in the Mediterranean Sea. It is located in the southern part of Europe. The destinations include numbers of picturesque beaches. In these beaches you can relax and enjoy your vacation in the calm and cozy ambience. Destinations in Malta offer both sandy as well as rocky beaches. Apart from the beaches, destinations  also include numerous natural spots to admire.
Where is Malta?
Malta is an island nation located in the Mediterranean Sea. Malta Location Map
Places To Visit In Malta
Apart from the beaches in your travel to Malta Islands you can discover numerous natural spots to admire. Popular places in Malta:
Luqa
Luqa in Malta is probably one of the finest tourist spots of the Maltese islands. In earlier times Luqa had been a small Maltese village which has presently expanded to a small town. It is mainly a residential area that has been appealing the tourists across the globe with its unique charm. While taking a trip around this picturesque town of Malta a visitor will come across several places of interest that will surely enthrall him with their unspoilt charm. Some among those destinations that worth visit have been mentioned below:
Malta Old Airport
Parish Church
Malta Airport
Zebbug
Zebbug, one of the ancient Maltese towns, is considered to be a major tourist spot of the country. The people who are highly interested in historic past are mainly suggested to visit this place since Zebbug of Malta is very rich in archaeological remains it always provide an insight of the prehistoric era. While roaming around Zebbug a number of scattered Punic and Phoenician tombs were also found along with a few cart ruts and other remains.
Birkirkara
Birkirkara is a wonderful town in central Malta. Since a long time it has been considered as a major tourist destination of the country that has deeply moved the international tourists with its pristine and panoramic view. It is said to be the biggest town on the island and comprises of four autonomous parishes including St Joseph, St Helen and Our Lady of the Carmel and St Mary.
There is a series of attractive places in Birkirkara in Malta, among which the Old Railway Station deserves mention. It is presently a public garden. Besides this, the other major attractions of Birkirkara include the aqueducts near Mriehel, and St Helen's basilica,which is considered to be one of the most visited churches on the islands of Malta. If you want to see the biggest bell of Malta you have to visit this church.
Bugibba
Bugibba in Malta is considered to be one of the most attractive tourist destinations of the country. With its wide range of panoramic view, this place has drawn the attention of a number of travelers. Bugibba has a rocky beach with flat rocks. While on a holiday trip to Bugibba you can also have a wonderful experience of bathing and water sports in sheltered waters. If one is interested to avail a great amount of recreational facilities, he should definitely visit Bugibba.
Msida
Msida is considered to be one of the most attractive tourist destinations of Malta. So if you are taking a trip around Malta and  really confused to select the place to visit you are suggested to go for Msida in Malta. In Msida the tourists can come across Msida Parish church that will surely enthrall them with its holy charm. Besides this, its sea front will also provide you a delightful experience. On the other hand, the Bingo Hall of Msida attends a lot of people as a recreational resource and is offering them unspoilt entertainment opportunity. Though Msida can not provide much shopping facilities, yet no one faces difficulty to acquire his basic necessities. The nearest beach of Msida of Malta is Sliema, so if you are interested to enjoy the sandy beach you can visit Sliema.
Naxxar
Naxxar in Malta is one of the most visited tourist destinations in the islands. All through the year this place of interest attends a huge number of travelers across the world. The Naxxar locality covers an approximate area of 11 kilometers square. The entire area consists of the Sghajtar area, Santa Marija tax-Xaghra, Naxxar centre, Maghtab, Salina, Bahar ic-Caghaq, San Pawl tat-Targa, Birguma, and a part of Madliena.
There are numerous places of interest in Naxxar at Malta, all of which worth visit. The names are listed below:
Aventis Garden
Chapels
Palazzo Parisio
Parish Church
Fortifications
Since the above mentioned places have the capability to captivate the tourists they have contributed a lot to the tourism industry of Naxxar. The shopping facilities are also highly appreciated by the visitors as throughout the year different types of shopping malls remain open and offer a wide range stock.
Few other popular tourist destinations of Malta are:
Gozo and Comino the sister islands of Malta
Grandmasters' Palace
The "Sacra Infermeria"
The St. James Centre for Creativity
Sliema
Valletta
M'dina
Bugibba
Comino
St. Julians
Qawra
Golden Bay
St Georges Bay
Marsascala
St Pauls Bay
Marsalforn and many more
Related : Malta Facts | Malta Airports