Germany, one of the most important economies in Europe has a glorious history and the food habits have evolved over a period of time. Beer is the staple drink with Octoberfest, which, while it originated here, is celebrated in many more countries now. Historically, German people loved their game meats including wild boars, rabbits, venison while in the modern day pork and chicken have started to dominate the markets. Some of the common meat dishes in the country include Bratwurst, Schwarzwurst, Currywurst and Sauerbraten, Side dishes include mashed potatoes, French fries and certain types of noodles. Desserts includes many types of cakes and tarts and one of the most famous in German cuisine is Schwarzwälder Kirschtorte, the others include Cheesecake, Doughnuts and Pancakes.
For today's recipe, I've chosen one of the most famous desserts from Germany- Schwarzwälder Kirschtorte. This cake is made using the Kirsch or Cherry Liquor, this is mixed with cream and layered in between a chocolate cake which is finally decorated with cream, chocolate and cherries. This mixture gives the cake its unique taste and makes it an absolute delight to have. The cake is internationally known as Black Forest Cake based on the region of its origin. The cake can be made without liquor as well, by replacing it with some cherry water, this kind of preparation is famous in the US and many Asian countries. Let's see this recipe on how to make this cake at home and enjoy the perfect German dessert. Here is your Schwarzwälder Kirschtorte Recipe.
Ingredients (makes a 8 inch cake)
For Chocolate Sponge
All purpose flour - 1 cup
Cocoa powder - 1/4 cup
Sugar - 1 cup
Eggs - 6
For Soaking Syrup
Water - 1 & 1/2 cup
Sugar - 1/2 cup
Kirsch - 2 tbsp
For Frosting
Whipping cream - 500 ml
Icing sugar - 2 cups
Vanilla extract - 1 tsp
Cherry's - 15 to 20 chopped and 6 to 8 full for decoration
Schwarzwälder Kirschtorte Recipe
For Sponge Cake
Preheat the oven to 350º F.
Grease and dust two 8 inch cake pans.
Whisk eggs and sugar till light and fluffy.
Fold in the flour and cocoa powder mixture.
Pour the batter equally into both the pans.
Bake for 20 to 25 minutes.
Remove the sponge from the pans and let them cool completely.

For Soaking syrup
Mix all ingredients to make a syrup.
For Frosting
Whip the cream with vanilla extract and icing sugar till stiff.
For Assembly
Put one half on a cake board, brush with soaking syrup.
Add 1 cup frosting and spread evenly.
Add chopped cherries and spread evenly.
Place the other half cake over the top and brush with soaking syrup.
Cover the cake with remaining whipped cream on all sides.
Decorate with chocolate shaving and place cherries on the cake.
Decorate more as required.
Serve.
Summary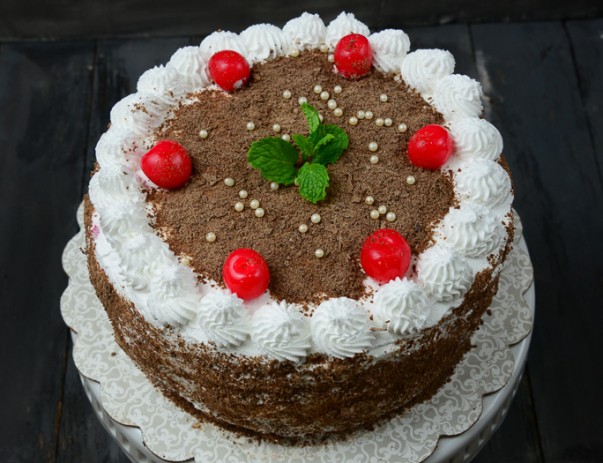 Recipe Name
Schwarzwälder Kirschtorte
Published On
Preparation Time
Cook Time
Total Time
Average Rating
Based on 4 Review(s)
Published On:
Sunday, November 23rd, 2014