Mongolia landlocked between Russia and China, was greatly influenced by these countries. The cuisine of Mongolia still follows its traditional values, and people use most of the products from the reared domestic animals. Due to cold climate, the vegetation is bare minimum and the use of meats is very common, within the meats, Mongol's use Beef, Mutton, Horse & Camel. The use of spices is also limited in the country and most of the meat's are made without much other ingredients. Buuz is one of the most common dishes found in Mongolia, other dishes include Khuushuur, Khorkhog, Boodog, Noodle Soup and various stews. Airag is the national beverage made with fermented milk, while Vodka is a popular alcoholic drink.
As Buuz is one of the most famous recipes from this country, I picked it up for my preparation today. It is consumed in large quantities and served through important festivals like local New Year. It is a steamed dumpling made mostly with minced Mutton filling and bears strong resemblance to Baozi made in China. Traditionally it has been made with least of the ingredients, while onion, garlic and salt are used for basic flavoring. Some of the preparations also use vegetables like potato, cabbage etc, however since the vegetable use in the country is minimum, I also restricted the use to only mutton with flavorings. One of the key ways to prepare Buuz is to leave a small opening on the top of the dumpling, while the shape is up to you. Let's see a simple to follow Mongolian Buuz Recipe for a perfect Mongol taste.
Ingredients (serves 4)
Minced mutton - 200 gms
Onion - 1 cup (chopped)
Garlic - 3 to 4 cloves
Salt to taste
Black pepper powder - 1/4 tsp
All purpose flour - 1 cup
Mongolian Buuz Recipe
Mix minced mutton with onion and garlic and mash thoroughly.
Add salt and black pepper powder and mix well. Keep aside.
Knead a soft dough with all purpose flour using water as needed.
Divide the dough into 1 inch balls.
Roll them into thin circles.
Put a tablespoon filling in the middle and seal in a flower shape leaving a little opening on the top.
Steam the Buuz for about 25 to 30 min.
Summary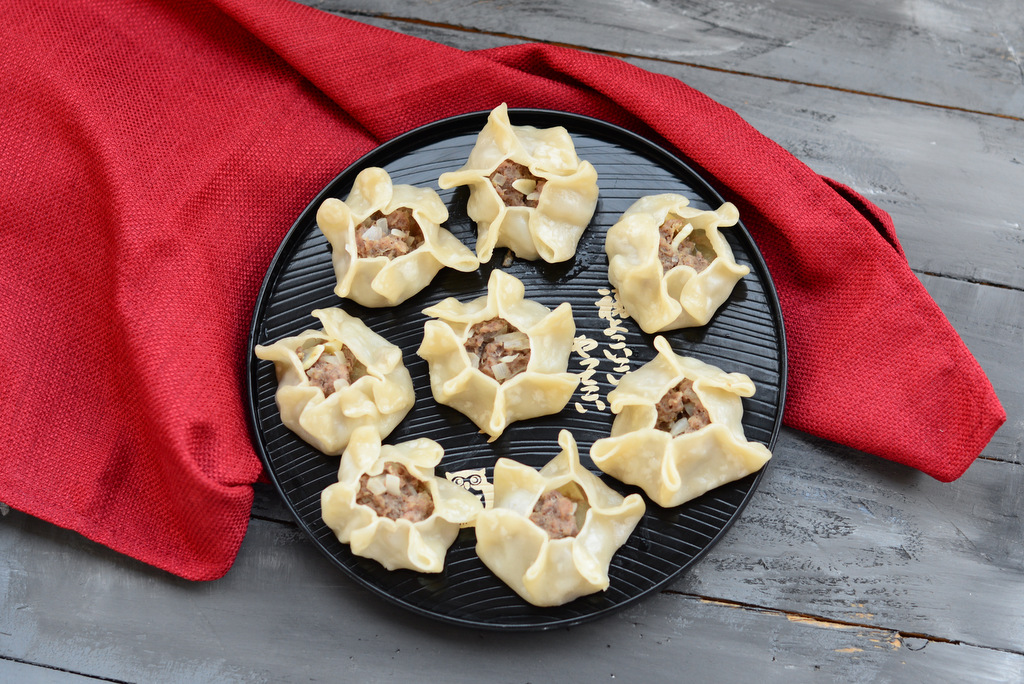 Recipe Name
Published On
Preparation Time
Cook Time
Total Time
Average Rating
Based on 1 Review(s)
Published On:
Sunday, June 15th, 2014