Canada just like the US, saw settlers from different regions come together over a period of time bringing in a confluence of ingredients and dishes which together forms Canadian cuisine. It is the largest producers of maple syrup which was originally used by the Aboriginal people. In fact it is so famous, that Canada has the maple leaf on its national flag. It also sports many different dishes with influences from the English, French, Other Eastern and Northern European countries and as far east as China. Some of the common dishes in Canada include Poutine, Mac & Cheese, Salmon Jerky, Butter Tarts, Bagels, Smoked Meats, Doner Kebab, Apple Pie etc. Street food such as Hot Dog's, Falafel's and Ice creams is sold in many cities through mobile trucks and vans.
Butter Tart is one of the typical Canadian dishes which I made in this recipe. The recipe of these tarts may vary across the country however essentially it is a crunchy dessert made with flavored sugar syrup filled into a pastry and baked. The baking set's the syrup into semi-solid form while giving crunchiness to the pastry. The tarts are more famous in the English influenced regions to an extent that they are now being celebrated as themed tourist events like as an example "Kawarthas Northumberland Butter Tart Tour" in Ontario. Well in this recipe I show you how to make a perfect Canadian Butter Tart at home, so you can enjoy a true Canadian flavor. My tarts came out pretty good and were taken out in a matter of minutes, I'm sure to make them again and you should too.
Ingredients (makes 6 Butter Tarts)
For The Tart Shells
All Purpose Flour - 1 & 1/2 cup
Salt - 1/2 tsp
Cold butter - 115 gms (cut in small cubes)
Ice water - 3 tbsp
For Filling
Egg - 1
Brown sugar - 75 gms
Raisins - 1 tbsp
Vanilla extract - 1/2 tsp
Unsalted butter - 30 gms
Corn syrup - 1/4 cup
Heavy cream - 2 tbsp
Walnuts - 2 tbsp
How to Make Canadian Butter Tart
For Tart Shells
Mix the flour and salt, add butter and cut it using a fork until the mixture is crumbly.
Add ice cold water and make a dough.
Cover the dough in a cling film and refrigerate for 30 min.
Grease the tart tins
Divide the dough in 6 parts and individually roll the dough into 1/4 inch thick discs.
Cover the tart tins with the discs and remove the excess dough from the sides.
For Filling
Mix all ingredients except walnuts and cook in a pan for 3 to 4 min with constant stirring.
For Assembly
Pre heat the oven to 180 C.
Fill the tart shells with the filling.
Top with walnuts and bake for 30 to 35 min till golden brown.
Cool & Serve.
Summary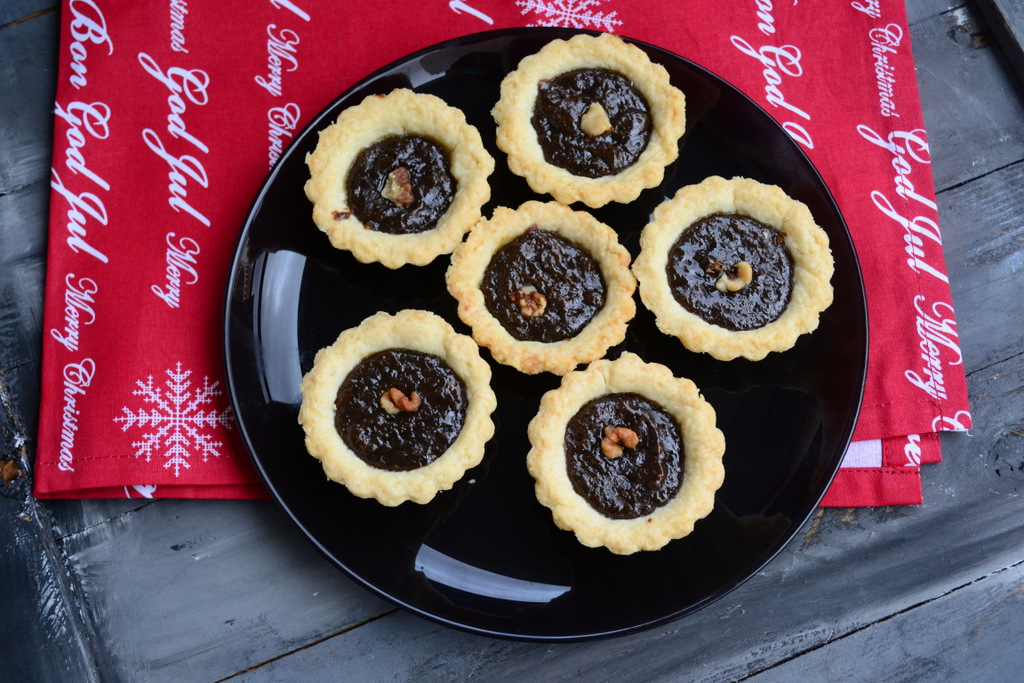 Recipe Name
Canadian Butter Tart Recipe
Published On
Preparation Time
Cook Time
Total Time
Average Rating
Based on 0 Review(s)
Published On:
Sunday, July 27th, 2014