I have set out to discover Istanbul. I am not chasing any guide book recommendations. I am discovering, and that is what I am here for. As a blogger it is what you see, and what you capture, and what you think is going to be important to your reader - and this story is all about that. This story is about fishing lines off the Galata Bridge over the Bosphorus or Istanbul Strait, if you so please. The way to discover a city is to go where the locals go, try to move as quickly away from purely touristy stuff, and that is what got me here. I was on this hop-on-hop-off bus making mental notes of what all I haven't been told about Istanbul and this was the starting point. Nobody prepared me for this story and it just happened. I will be adding to it as I get more time to work on it, and till then it is a work in progress.
It looks like everyone can be a fisherman out here; buy a few things, rent out a few others, and you are done. Of course, not everyone brings his fishing line along with his intent to fish.
It is a backdrop like this which motivates people to stand for hours and wait for their catch to be felt on the fishing line. This is something I would love to do; couldn't do it this time though. The bridge is wide enough and pedestrian paths on both sides accommodate these anglers.
You can see what they catch, some sell them here itself, others keep them for taking home or selling in the market just a few meters away. If you are looking for big fish, no, this is not the place. The maximum weight of a fish caught by an average angler here would be around  0.7 Kg.
I was looking for some action and suddenly I saw this fish trying to free itself. Camera positioned, I followed this fish on its journey from Bosphorus to Bag!
All this time I was not aware who got it, my focus was the journey, and without missing a shot worth taking I clicked and clicked, and trusted my camera to do a good job for me.
The fish is up in the air and closer to the line; in this photograph below it is juxtaposed with another fishing rod.
The angler attempts to reach out to it. Of course, it was a few seconds away from meeting him.
That million dollar expression, that eureka moment, that satisfaction of a good catch.
The fish is not giving up yet, it refuses to come into his hand, attempting to free itself and jump back into the strait.
Finally, the fish is in the bag and the angler is all set for the next one.
Some anglers follow a "take-it-easy policy". This man is in no mood to let events around him or even on his fishing rod disturb his late afternoon siesta. I am told he is a regular and enjoys his few hours over here.
While I continued with my walk, I saw another fish in the air and the man with shades saying "Wow!" at what he had got. At that moment I felt that I must stop all this walking business and pick up a fishing rod and get going.
Some of what these anglers catch and a lot of what professional fishermen bring in lands up on the opposite side of the river in this fish market. It can't get any more fresh than this for a fish market. This fish market had only one word written all over it - FRESH!
There has to be a way to get it to your plate and I found this. There are, of course, fancy and fancier restaurants but if you love street food you would go for this. There are hundreds of cart grills and they grill vegetables, fish, and beef.
This is how I got mine in my hands - fish, lots of veggies, and bread - put together in a sandwich, which tasted wonderful.
Also Read : Istanbul Street Food Tour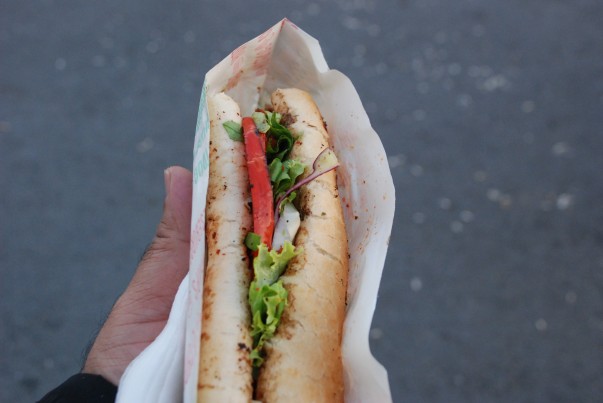 After a hard day's work – this one is for me!
Published On:
Wednesday, October 23rd, 2013