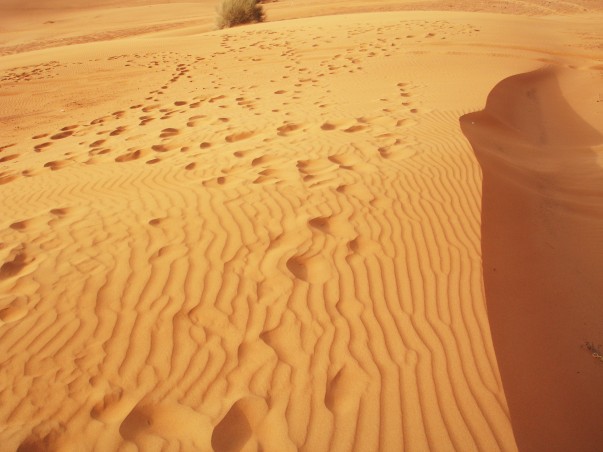 A journey to modern and ever-changing Dubai is incomplete without experiencing the true roots of its historic Arab culture. A desert safari is a kaleidoscope of fun, thrill, and sand adventures all rolled into one. Popularly known as Sand Bashing, this five-hour long odyssey is nothing less than a timeless journey into the glorious Arabic culture of sand, camps, camels, and date palms.
I booked this tour in advance and at 5 p.m. a swanky Land Cruiser came to pick me up from my hotel. Full of excitement this five-hour long journey was just about to begin. After picking up a few more fellow passengers our cruiser was full to its capacity and soon we were driving on a highway, taking us outside the city limits.
After almost half-an-hour's drive, we were out on a highway where we could see only the vast spread of sand on both sides.Welcome to the Arabian Desert… this was the starting point of our Desert odyssey. As we were driving down the highway, Dubai's skyline was getting smaller with every passing kilometer. Midway we halted at a roadside shop full of souvenirs and eatables. After taking a short 15-minutes break, we continued our journey and soon reached a point where we left the highway and started driving through the desert sand. After travelling about a kilometer, our tour guide-cum-driver got down from the SUV to lower the wheels for better grip and a smoother drive across the sand dunes. He advised us to hold on to the iron frame fixed inside the SUV's roof and sides for a smoother ride. We were about to start a roller-coaster ride on the golden sand dunes. The gleaming sand dunes soaked in twilight offered an incredible view and soon we began our most fun-filled adventure ride. Going up and down the sand dunes gave us all an adrenalin rush. We were all shrieking, full of excitement, as and when our SUV went up and down like a roller-coaster on the crests and troughs of the golden sand. People with motion sickness and heart ailments should take precautions and avoid this ride.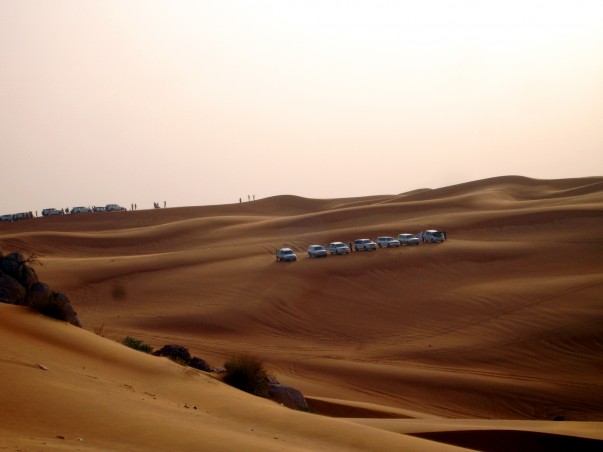 After 20 minutes of this exciting ride we stopped at one of the sand dunes to catch a glimpse of the sunset and click some pictures, while our driver got busy in normalizing the wheel air pressure again for driving back on the highway.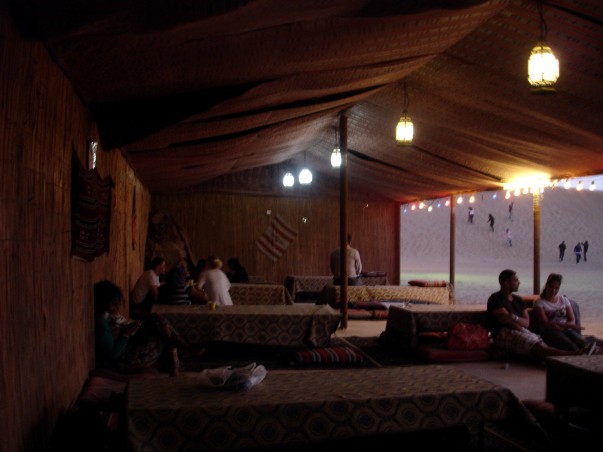 After a 40-minutes' drive we reached our desert camp destination where we were about to spend the next 3 hours of a fun-filled evening soaked in traditional Arabic hospitality. These are make shifts camps in the middle of the desert area and there are multiple such camps spread across a vast stretch. Arabian tea, soft drinks, and dates are served as welcome drinks with some local snacks. While you enjoy this, there are cots and mats laid out across the camp for you to simply stretch out and relax. Both open and covered seating arrangements are provided keeping visitors' comfort in mind. Do carry some light woollens just in case if you want to avoid the cool desert breeze which sometimes get chilly.
Sheesha smoking, henna tattoos, camel rides, dune boarding, and getting your photographs taken dressed in local Arab costumes are some of the other fun-filled activities which one can opt for. After almost one hour, when the stars start twinkling and the moon starts gazing at you, it is now time to get ready for some more adventure. On a center stage area surrounded by gleaming lights and large speakers, local Arabian music starts doing its magic complemented with a Tanoura dance show. A male dancer performed to perfection the non-stop revolving act in a costume with a large circumference lit up with LED lights. I was amazed to see him continuously revolving to the changing Arabic beats. This was a seamless and exciting performance. After this exciting dance show, now it was time to enjoy belly dancing. A tall, slim, and toned woman in a shimmering gypsy-like costume, with her face covered ,entered the performance area and displayed a range of moves using the muscles of her belly. There was enthusiastic cheering from the crowd as she carried out her moves. Her entire performance was flawless and close to perfection. There was loud applause when she concluded her show.
Now it was time to enjoy our nice spread of BBQ dinner with Indian, continental, and Arab cuisine. Desserts followed this main course and then it was time to get back in the SUV to return to the city and say good bye to this memorable evening on a desert safari in Dubai!
Published On:
Friday, January 3rd, 2014