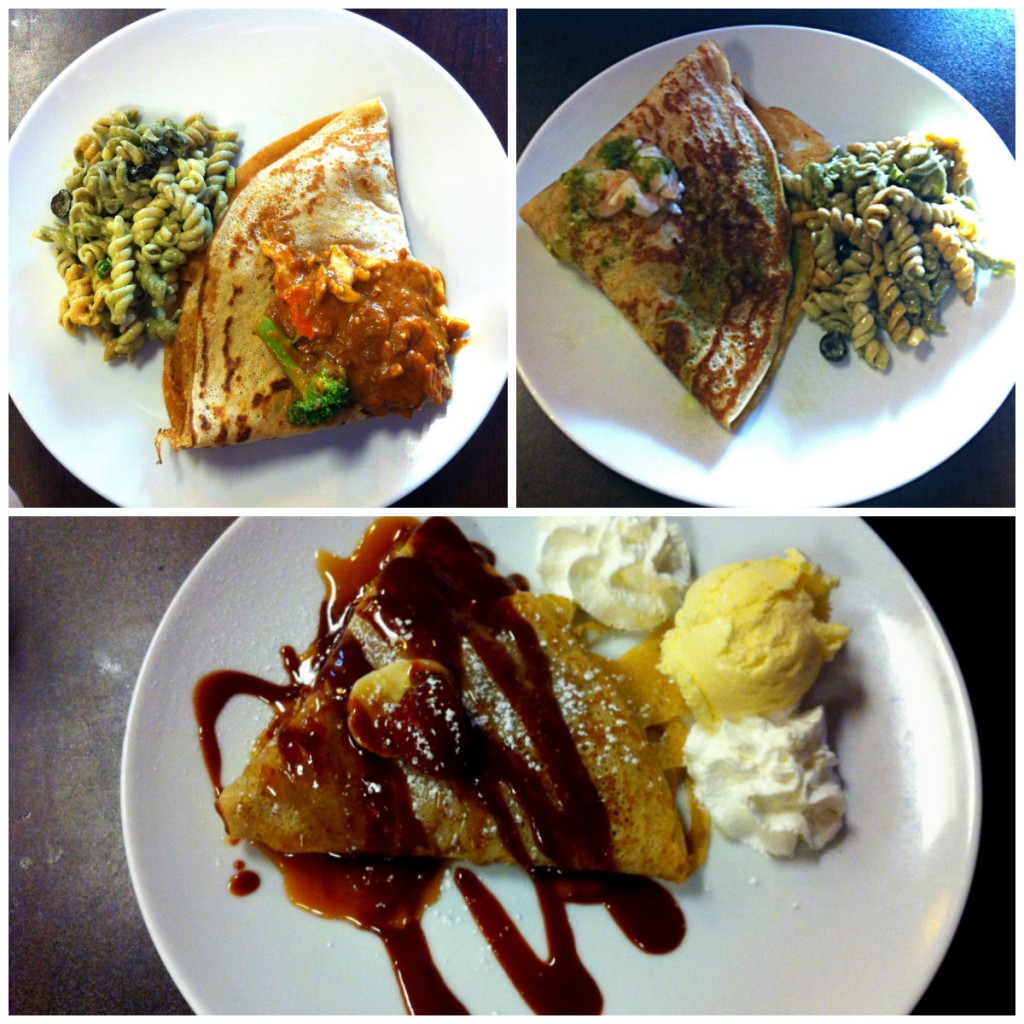 Le Moose Crepe Cafe offers what sounds like a bizarre blend: Thai food and French crepes. This strange mixture of cuisines may have been why I was hesitant to try Le Moose – I've driven past it for years before finally trying it today. I love Thai food, and I love crepes. Why not try the combination of two things I love? I'm glad I did. I've found a great new spot for a nice meal or a deluxe dessert.
I often associate crepes with desserts – Nutella crepes were once a staple in my diet. Savory crepes were something I've tried on a few occasions for breakfast, filled with ham and cheese and the like. The menu at Le Moose Crepe Cafe features a wide variety of savory crepes, along with five vegetarian options. Several of their crepes are Thai-influenced, but there are options for Mediterranean and American flavors as well.
And if dinner crepes are not your thing, no worries. The menu also offers plenty of sandwiches, salads, and a full Thai menu, complete with various curries, rice plates, and noodles. Just make sure to save room for dessert.
The Location
Le Moose Crepe Cafe has a convenient location, just off I-880's Mowry exit in central Fremont. Situated in the Mowry East shopping center between Blacow and Farwell, the restaurant is alongside several other businesses including the Lucky supermarket. The strip mall has plenty of parking.
Address: 5014 Mowry Avenue
Fremont, CA 94536
Phone: (510)745-7288
The Hours:
Monday through Friday 11 am – 3 pm and 5 pm – 9 pm
Saturday and Sunday 11 am – 3 pm and 4 pm – 9 pm
The Ambiance
I'd describe the décor at Le Moose Crepe Cafe as Asian-eclectic, reflecting the fusion found also in the food. Plum and gold scored-paint walls are embellished with a combination of Asian art and some oddities. Above our table was a candle sconce and a framed portrait of a Storm Trooper.
The restaurant has about 15 tables inside. The area where the chefs prepare the food is behind a low counter, which makes it look like the type of restaurant where you order at the counter, but you don't. At the same time, the dark colors of the walls and tables makes it feel a bit less casual.
The Service
Good, efficient service. Not especially friendly or chatty, but everything was quick, and my water was frequently refilled.
The Food
To fully experience the Thai-crepe fusion, I selected my entree from the list of Thai crepes. I considered the Green Curry and the Chicken Masala before finally settling on the Spicy Peanut Chicken Curry, featuring the sweet and spicy peanut sauce that often accompanies chicken satay. We also ordered the crepe called Buddies – Mediterranean style crab and shrimp with tomatoes, mozzarella and pesto. The crepes come with a side of either green salad or pasta salad.
The pasta salad was delicious, with pesto sauce and black olives. The sauce may have been a little too oily, but I really didn't care as I happily scarfed the stuff down. The idea of my Thai crepe may have seemed strange to me at first, but the taste didn't. The crepe served as a subtle accompaniment to the bold flavors of the sauce. Sweet with a slight kick, the peanut sauce was just right. Cooked in the sauce was the tender chicken and vegetables, including broccoli and carrots. The Buddies crepe was a completely different world of flavors. Like the pasta salad, the seafood of the Buddies crepe was tossed in pesto sauce for a fresh and tasty crepe. Along with the crab and shrimp were tomatoes, and a topping of mozzarella.
Though we couldn't finish either of those crepes, we packed them up for leftovers and asked for the dessert menu. Because we're adults, and we can do that. Tons of great dessert options, even desserts that are not crepes, like sticky mango rice, will make Le Moose Crepe a place to unleash my dessert cravings. We split Le Moose Lovers dessert crepe: stuffed with strawberries and banana, and topped with caramel and raspberry sauce. The dessert crepes are served with whipped cream and a scoop of vanilla ice cream. Definitely recommended.
Summary
Reviewer
Review Date
Reviewed Item
Author Rating
Published On:
Monday, July 8th, 2013