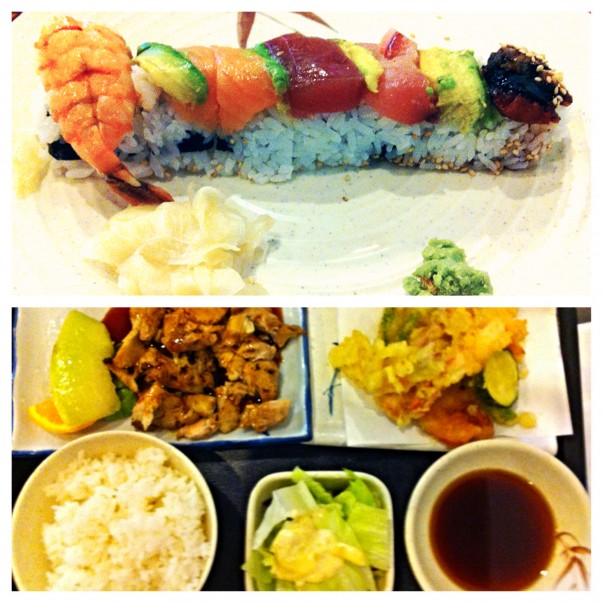 Kabuki is a small and inexpensive Japanese restaurant in Fremont, a real Mom and Pop restaurant, run by a Japanese couple. It's not glamorous or fancy, but it's clear that the couple takes pride in what they do – and that is provide a delicious Japanese meal with a great value.   It seems to be a two-person show at Kabuki – with the husband as the chef, and the wife as the waitress. The service is fast and friendly, and it feels authentic – from the menu to the décor, to the quirky signs and sushi conveyer. The dining area is comfortable and casual, perfect for lunch or an easy dinner. With quick service and inexpensive food, Kabuki is perfect for take-out, great for dine in.
Note - This Restaurant is reportedly closed.
The Location
Kabuki's location is its biggest downfall – it's situated in a strip mall on Stevenson between Blacow and Sundale, along with Suju's Coffee. The restaurant is kind of hard to see, and the shopping center is a bit run down. There is, however, plenty of parking available, though you'll have to compete for spots with folks heading to the coffee shop and the dollar store.
Address: 4949 Stevenson Blvd, Fremont, CA 94538
Phone: 510-657-3736
The Hours
Monday-Friday 11:30 am – 2 pm
Monday-Sunday 5pm – 9 pm
The Ambiance
Kabuki has a very casual atmosphere, and has fairly simple décor, but it is decorated with a few pieces of pretty Japanese art, and a kimono that hangs on the wall. In the waiting area, handwritten signs dot the walls and windows – some of them unwelcoming signs that display charges for non-customers using the restroom, or the cost for a bag. The water is served in red solo cups. All part of the character. Just inside, an unused Kaizen (conveyor-belt) sushi bar has me wondering if the weekday lunch crowd gets to use it, though it doesn't seem like it. There is plenty of seating available. In the back, a tatami room adds a touch of elegance and offers a new experience to many non-Japanese who have never gone to a restaurant, removed their shoes, and sat on the soft straw mats while they enjoyed their meal.
The Service
Just one waitress takes care of the customers, both those dining in and those who take their food to go. A sweet Japanese woman, the waitress was helpful and very nice. The drinks and food came out very quickly, as soon as each part was ready.
The Price
Kabuki offers really good deals on their food. Small, simple sushi rolls start at about $1.50 for a couple-piece California roll, along with many options at around $2.50. Larger, more intricate rolls go for around $7. Perhaps their best deals are their bento boxes – under $8 for a combination plate of rice, salad, and your choice of two items, like teriyaki, yakitori, tempura, oysters, and sushi. Another steal was the plum wine – only $3 per glass. Fill-er up! Dining in the tatami room requires a minimum of $18 per person, so for a nice night of lots of food and drink, that may be a great option. Although really, the food is so reasonably priced, I'm not sure I could eat $18 worth in one sitting, but it's something I'd definitely try.
The Food
We ended up ordering one bento with chicken teriyaki, tempura shrimp and vegetables, and which comes with a bowl of rice and a small salad. The flavor of the chicken teriyaki was perfect – sweet and a bit salty, with a hint of char. The meat was tender and the portion was large. The tempura was also great, though I wish there had been another shrimp. The veggies included zucchini, sweet potatoes, and green beans – all delicious, and perfect with the sauce. The salad was okay, but the dressing was too much like mayonnaise for my liking. The bento also came with a large bowl of miso soup, which was really tasty. We also ordered the rainbow roll, upon recommendation from the waitress. A variety of fish, including shrimp, salmon, and tuna, top the California roll (made with imitation crab), along with some avocado. The roll came with six pieces, which were very large. I had been worried that we hadn't ordered enough, but the food turned out to be quite filling. The menu gave names for the more intricate rolls, but not the descriptions I was trying to find. The menu also listed many noodle dishes that I wish I could have tried, but I guess I'll save that for another trip to Kabuki. Overall, Kabuki offers really cheap but quality Japanese food, if you're not looking for a fancy place with a lot of ambiance.
Summary
Reviewer
Review Date
Reviewed Item
Author Rating
Published On:
Monday, August 5th, 2013