Vietnamese cuisine widely influenced by the Asian cuisine is known to be healthy with its usage of multiple herbs, vegetables, seafood, rice among other meats etc. There are multiple kind of cooking methods like braising, pan frying, stir frying, stewing, roasting used for making the traditional dishes. Some of the common known dishes from the country include Noodle soups like Pho & Banh Canh; Canh Chua (a sour soup); variety of rice served with chicken, duck, pork or beef; Xoi (sticky rice cooked with coconut milk); Banh Xeo, Banh Beo, Rolls made with rice paper, Banh Mi Op La (Egg sandwich), Goi Dau Hu (Tofy Salad), Curries, Fermented vegetable & meat dishes and desserts such as Che and Sinh To. The cooking principles try to balance the Yin & Yang using the hot & cool properties of various food items.
For a Vietnamese taste today I made Rice paper rolls filled with vegetables. Its also possible to fill the rolls with shrimp, pork or chicken while the method remains very similar. These Rice Paper Rolls are extremely healthy with no usage of oil or fats and can be served as starters or with the main course. They can be made fairly quickly and go well with a peanut dip. Here is a simple step by step Vietnamese Rice Paper Rolls Recipe. Enjoy the Asian taste from Vietnam.
Ingredients
For the rolls
Rice paper - 10 to 12
Cucumber - 1 (cut in thin julienne)
Carrot - 1 (cut in thin julienne)
Lettuce leaves - 5 to 6 (torn in small pieces)
Mint leaves - 20 to 25
Rice noodles - 1 cup
Roasted peanuts - 1/4 cup (crushed)
For the peanut dip
Peanut butter - 2 tbsp
Hoisin sauce - 3 tbsp
Water - 1/2 cup
Lemon juice - 1 lemon
Soy Sauce - 1 tbsp
Chili garlic paste - 2 tsp
How to Make Rice Paper Rolls
For the peanut dip
Blend all ingredients to make a smooth paste. Keep aside.
For the rolls
Soak the rice noodles in warm water for about 10 minutes. Keep aside.
Dip the rice paper in cold water for few seconds.
Lay it on a clean surface
Line it with cucumber, carrot, lettuce leaves, mint leaves, rice noodles and roasted peanuts.
Fold the sheet carefully tucking the sides inside into a tight roll.
Cut diagonally from the center
Repeat with all rice papers
Serve with peanut dip
Summary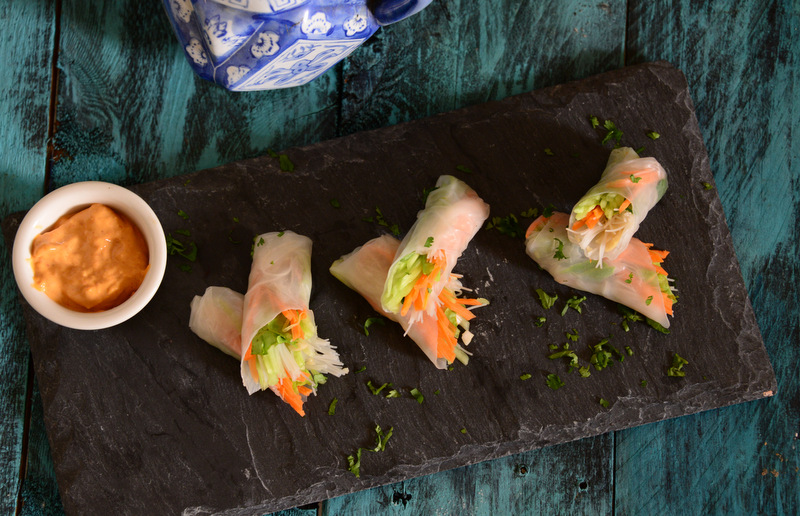 Recipe Name
Vietnamese Rice Paper Rolls
Published On
Preparation Time
Cook Time
Total Time
Average Rating
Based on 2 Review(s)
Published On:
Saturday, February 14th, 2015