Thai cuisine is one of the most popular cuisines in the world. Tourists can enjoy the local flavor in a number of restaurants and street shops that serve curries, rice, noodles, meat satays, and many more. The most distinguishing factor in Thai cuisine is its use of herbs and spices like Kaffir Lime, Lemon Grass, Coriander, and Tamarind along with sauce pastes made with fish and shrimps. The curries can be vegetarian or non-vegetarian depending on the ingredients that are being used. Some common dishes that are available in Thailand include Sticky Rice (Khao Niao), Grilled Chicken (Kai Yang), Rice Soups along with chicken or fish, Papaya Salad (Som Tam), Pad Thai, Lap Kai, Nam Tok, Red, Green and Yellow curries, to name a few. In this column, we have already covered Thai red Curry and Pad Thai, so let's prepare a Thai Green Curry.
Thai curries generally use coconut milk & herbs to give a strong aroma to the servings, which can be served with white rice or noodles. As the name would suggest, the green curry has light green color and can be made at home using green chilies, lemon grass, kaffir lime or tone. One can also get a Thai green curry paste, which is available in most super markets that stock international ingredients. I also made this dish using a curry paste, and it came out pretty well. I added vegetables like broccoli, zucchini, bell peppers, and cauliflowers along with some chicken and served it with white rice. If you are looking to make Thai food at home, green curry is a perfect option.
Ingredients (serves 4)
Oil - 2 tbsp
Garlic - 1 tsp (chopped)
Thai green curry paste - 3 tbsp
Coconut milk - 2 & 1/2 cup
Fish sauce - 2 tsp
Salt to taste
Red bell pepper - 1/2 cup (chopped)
Yellow bell pepper - 1/2 cup (chopped)
Broccoli - 1/2 cup (florets)
Cauliflower - 1/2 cup (florets)
Zucchini - 1/2 cup (chopped)
Egg plant - 1/2 cup (chopped)
Kaffir lime leaves - 2
Chicken - 2 breasts (cut in small pieces)
How to Make Thai Green Curry
Heat oil in a pan, add garlic and fry for few seconds.
Add Thai Green Curry paste and fry for 1 minute.
Add coconut milk, fish sauce and cook for a minute.
Add all cut vegetables and cook for another minute.
Add chicken and cook for about 6 to 7 minutes.
Add salt and chopped kaffir lime leaves.
Cook for about 2 to 3 minutes.
Serve hot.
Summary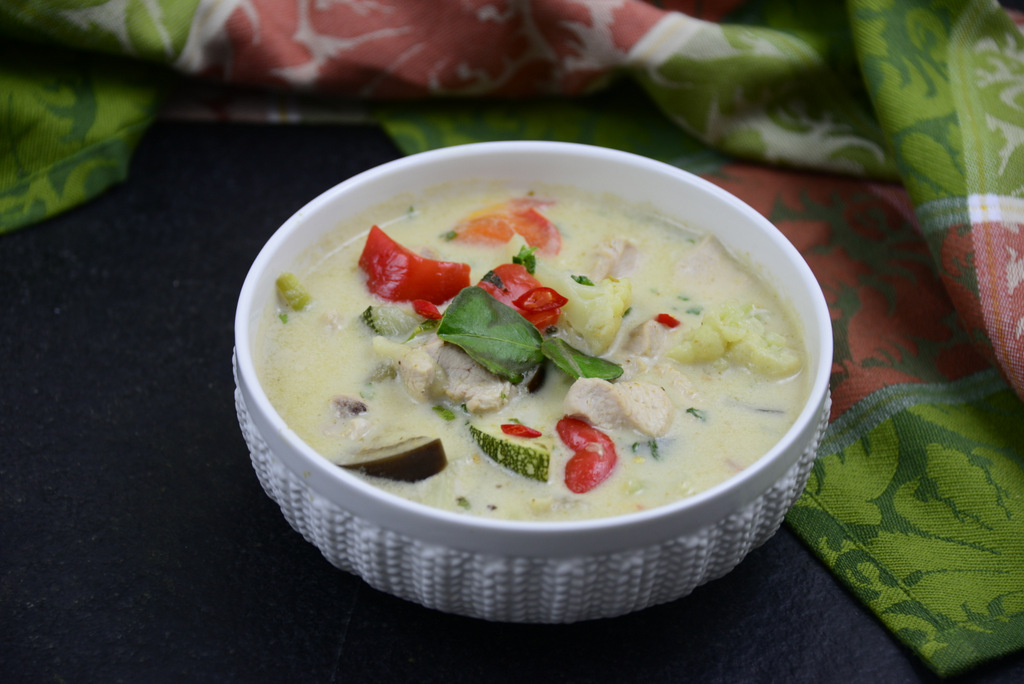 Recipe Name
Published On
Preparation Time
Cook Time
Total Time
Average Rating
Based on 2 Review(s)
Published On:
Sunday, April 5th, 2015