Sri Lanka is an island country in the Indian Ocean and also referred to as "Pearl of the Indian Ocean" for its shape. It has a long cultural history primarily made up of Sinhalese and Tamil population. The natives mostly follow Buddhism and Hinduism and a great amount of influence from the Indian subcontinent. Sri Lankan food too has had influences specially from the Southern Indian states like Kerala and Tamil Nadu. Rice is a staple dish served with most other curries, traditionally the food has been served in clay pots and eaten in a banana leaf. The vast oceans provide the country with fish which is one of the main meats along with chicken and goat (mutton). Also similar to the Indian cuisine, Sri Lankans use a variety of spices like cumin, coriander, chilies, cloves and more, while the abundance of coconut around the island can also be seen in the day to day preparations. Coconut milk is used as an ingredient in many of the curries. Sri Lanka is also a key producer for tea and coffee with Ceylon Tea being famous the world over.
Some of the main dishes from Sri Lanka include Kiribath made with rice and milk, Koththu Roti which is a mixture of egg, meat and vegetables, Appam a fermented rice flour preparation while Idiappam is made with rice and wheat flour. Kalu Dodol is a dessert preparation made from coconut milk, while Toddy is a mild alcoholic preparation derived from the sap of the palm tree is also pretty famous. Along with the main course, the side dishes include chutney, sambol and pickles.
For a Sri Lankan experience, I chose to make an authentic fish curry using the spices and coconut milk. I served the curry in a clay pot along with boiled white rice true to a traditional meal. The curry gave a distinct flavor which comes from spices like coriander and cumin powder while coconut milk balances the chilies. The whole mustard, fenugreek and cumin seeds bring out slight crunchiness and the dish went very well with rice. I can recommend it for any of your main meals. The curry can be prepared fairly quickly while you boil any of the rice variety you like. Let's see this Sri Lankan Fish Curry Recipe.
Ingredients (serves 3 to 4)
Oil - 3 tbsp
Mustard seeds - 1 tsp
Cumin seeds - 1 tsp
Fenugreek seeds - 1 tsp
Curry leaves - 2 sprigs
Cloves - 3 to 4
Black peppercorns - 6 to 8
Garlic - 8 to 10 cloves (chopped)
Onion - 1 cup (thinly sliced)
Dry red chili - 4
Tomato - 1 cup (chopped)
Cumin powder - 1/2 tsp
Chili powder - 1/2 tsp
Coriander powder - 2 tsp
Salt to taste
Turmeric powder - 1/2 tsp
Tamarind paste - 2 tsp
Fish steaks - 600 gms
Coconut milk - 1/2 cup
Sri Lankan Fish Curry Recipe
Heat oil in a heavy bottom pan, add mustard seeds, cumin seeds, fenugreek seeds and curry leaves.
When it starts to crackle, add black peppercorns, cloves and dry red chilies and fry for 20 seconds.
Add onion and garlic and fry till the onion turns translucent.
Add tomato and fry for 3-4 minutes.
Add cumin powder, chili powder, coriander powder, salt and turmeric powder with 1/2 cup water and fry for 2-3 minutes.
Add 1 cup water, let it come to a boil, add tamarind paste and cook for another minute.
Add fish and cook for 3-4 minutes.
Add coconut milk and cook for another 2 minutes.
Garnish with fresh coriander leaves.
Serve hot with boiled rice.
Summary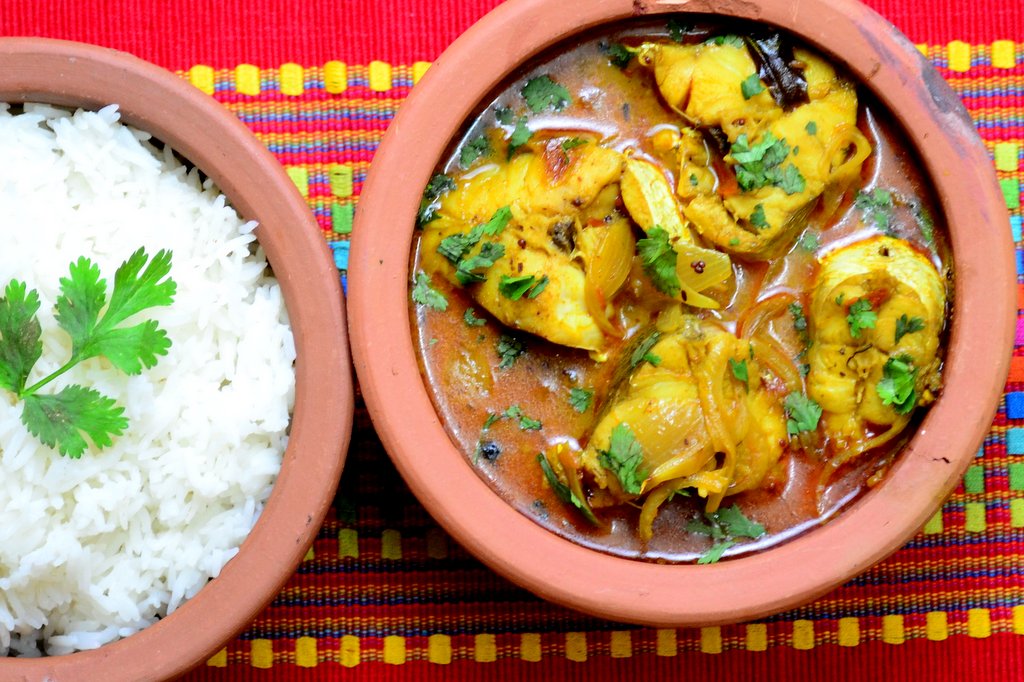 Recipe Name
Published On
Preparation Time
Cook Time
Total Time
Average Rating
Based on 7 Review(s)
Published On:
Saturday, March 22nd, 2014